Phantoms haunt Panther Pride
Upcoming senior Ryan Ragsdale is the first Starr's Mill student to earn a position in Drum Corps International.
"I always loved watching [Drum Corps International], but I wasn't sure if I would ever be able to do it," Ragsdale said. "One day I just decided to go for it to see what would happen."
Drum Corps International is a league for competitive drum corps to compete in, similar to how the Major League Baseball is to baseball or the National Football League is to football. These drum corps are large, professional-level marching ensembles that only utilize brass and percussion instruments, no woodwinds. They also have color guards.
"
I picked Phantom because they're one of my favorites, and I just got to work.
— Upcoming senior Ryan Ragsdale
DCI has two classes: World Class, and Open Class. World Class is more professional and difficult. Most of the best and better-known corps, including the Phantom Regiment, compete in World Class. Smaller or newer corps and entry level corps compete in Open Class. Ragsdale auditioned for the Phantom Regiment.
"Of course I was extremely nervous [at audition camps], but I was really just thinking about myself," Ragsdale said. "I was only worried about doing my best." 
The corp started in 1956, originally competing in small venues set up and administered by the American Legion. The Regiment joined DCI shortly after DCI's founding in 1972. They quickly became well-known in the drum corps world, placing in the top 12 finalists every year since 1974. They've had several legendary performances over the years, but they did not win the DCI World Championships until 1996 when they tied with the Blue Devils, another drum corp. They won for the second time in 2008.
"I picked Phantom because they're one of my favorites, and I just got to work," Ragsdale said.
When it came to actually auditioning for Phantom Regiment, Ragsdale had to undergo a long, arduous selection process. He first paid a registration fee online in order to receive an audition packet via email. This included the music Phantom Regiment wanted him to prepare as well as marching and visual information. Ragsdale had about two to three months to prepare for his first audition at a clinic in Atlanta. There, candidates worked on some material, and they conducted their visual auditions in a group. The visual auditions included marching fundamentals, marching technique, and drill. Also, a choreographer had the auditionees do a dance on the spot to see how well they could learn and adapt to new things. At the same clinic, all potential contenders performed music auditions individually. Later that day, a meeting was hosted where all of those whom Phantom wanted to return were notified, Ragsdale being one of them.
While this announcement was a major accomplishment, the audition process was not over yet. The next month, another audition camp was hosted in Beloit, Wis. At this camp, the auditionees rehearsed once again, and the staff evaluated them. After that weekend, Ragsdale was called back again to Beloit in February. It was at that camp that he received his membership.
"[I felt] extremely relieved [when I received my membership]," Ragsdale said. "It didn't really occur to me the magnitude of the accomplishment until a few days later. After that I was just really excited to get to work and rehearse for the summer."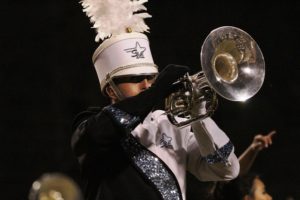 Now that Ragsdale is officially a member of Phantom Regiment, the more difficult work begins. First, the drum corp will have spring training in Rockford, Ill., beginning on May 17, which lasts five weeks. Then they will hit the road to tour several states across the United States all summer long, leading up to the World Championships in August at the Lucas Oil Stadium in downtown Indianapolis.
The lengthy schedule and 12 to 14 hour rehearsals every day may appear to be pretentious, but Ragsdale is ready to take it head-on. "I'm not worried," Ragsdale said. "Plenty of people have done this in high school."
After playing trumpet for three years in Starr's Mill's Panther Pride Marching Band, he will march trumpet with Phantom. Starr's Mill own band director Scott King also marched with Phantom Regiment in 1984. Some of the directors for this summer's program also instructed King during his time with Phantom.  
Even though Ragsdale will be joining Phantom with excitement, his passion still remains with Starr's Mill's marching band.  "I like being able to be there for my section and help them with whatever they need," Ragsdale said. "I wouldn't want to just stand around if I knew I could be doing good things for the band."
Aside from his position as a trumpet player in Starr's Mill's marching band, Ragsdale earned the title of trumpet section leader of last year's season. This year he will maintain that position as well as brass captain. All of this experience with marching band and leadership encourages Ragsdale to take on DCI this summer. He also plans on continuing both school marching band and DCI after graduation next year.
"It's been my dream for a while and having the privilege to march with such a prestigious group is more than exciting," Ragsdale said.
See Ragsdale's dream come true this summer during the DCI Southeastern Championship on July 29 at McEachern High School in Powder Springs, Ga.