Chanticleer winds down at annual retreat
On Aug. 19, members of Chanticleer, the advanced mixed chorus, met at the school at 7:15 a.m. for the annual Chanticleer Retreat. "The retreat, which has been going on for around 12 years," chorus director John Odom said, "is an opportunity for our top performing group (Chanticleer) to get to know each other in a social setting rather than just a rehearsal setting." 
To kick off the retreat, students participated in icebreaker activities indoors. After that the students broke off into groups of around 15 to participate in team-building activities outside with the help of the Camp Calvin staff. The activities were fun and challenging and forced the mini groups to work as a team and complete the task.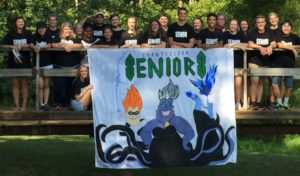 Members continued to build as a team with more team building exercises indoors. Then, Odom gave all the groups a box full of random items, such as bubbles, a football, "Finding Nemo" books, and much more. With those items, the groups were tasked with coming up with an advertisement on why students should join chorus.
Lunchtime came after that, and then came the famous "Ask Odom" segment of the retreat, where students were given a piece of paper, and could ask any question they wanted to know about Odom. Some questions were serious, others were as funny including, "Do you use a curling iron?"
Then, the students had their first of two sessions for learning their college level music for the fall concert.
Odom then gave each group a fairy tale character, and tasked them to create a song about the character to the tune of happy birthday. From Snow White and Cinderella, to Little Red Riding Hood and the Three Little Pigs, groups had a lot of fun acting and singing about their favorite fairy tale characters.
Next came the brutal water wars, seniors versus underclassmen. The theme for the water wars was heroes ( underclassmen) vs villains (seniors). Before the war began, students unveiled the banners that they created and president senior Lou Conti hyped up the seniors to beat the underclassmen and president-elect junior Lauren Mcbryde motivated the underclassmen. Then the war began, and after three rounds, the seniors were victorious.
The night ended with Odom's favorite part of the retreat, the skit competition. The theme for the skit was "A Day in the Life of Chanticleer" based on the TV show "The Office." "My favorite part of the retreat is the skit competition because the students have to be creative and work together on a given project," Odom said.  Groups took past or present Starr's Mill chorus members, and mixed them in with some of the characters from "The Office" to make the skits.
"With the level of music that they do, they are able to know each other, understand each other, and work together as one group," Odom said.
It was time to go home after that,and students had stories to tell that would last a lifetime. When they get back to the classroom, it does not get easier. "It just gets better in terms of the ability to work together and to tackle the mission of doing such complicated, advanced music," Odom said.