Pizza with The Prowler
Local business hosts fundraiser for school newspaper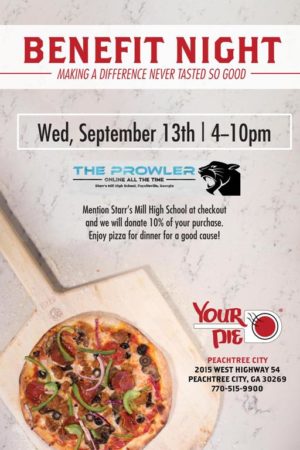 Clubs at Starr's Mill survive with the help of fundraising from local businesses. The Prowler is no exception to that rule.
On Sept. 13, Your Pie will host a fundraiser for The Prowler. "We will always help [Starrs Mill]," owner of Your Pie Bob Rosato said.
After hosting events for Starr's Mill and McIntosh in the past, the local pizza place looks forward to helping the community once again. "Customers say it's a great experience, not only the food, but the atmosphere," Rosato said.
Food, a chance to hang out with friends, and a way to support the school newspaper are not all of the opportunities at the fundraiser. The Prowler will also have a raffle to give away two tickets to Music Midtown, an annual music festival held the following weekend at Piedmont Park in Atlanta. The music festival will feature big names like Blink-182, Bruno Mars, and many more.
The fundraiser will be held from 4 to 10 p.m. on Sept. 13 at Your Pie in Peachtree City located next to Sprouts Farmers Market.
Come out and support The Prowler!