Local author visits Peachtree City Public Library
On Sept. 30 at the Peachtree City Public Library,  local Georgia author Michael Buchanan made an appearance to showcase the film adaptation of one of his co-authored books "The Fatboy Chronicles." The event's purpose was to provide publicity for Michael Buchanan's works as well as to build awareness for bullying and touch on its sometimes detrimental effects.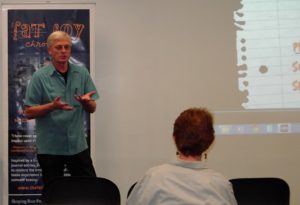 "When you're in [a film that you wrote] and it's working, then it's hard to explain what it means to you because you become the character," Michael Buchanan said. "When [the character is] laughing, you're laughing and when [the character is] crying, you're crying."
"The Fat Boy Chronicles" focuses on overweight teenager Jimmy Winterpock and his struggles throughout high school. Jimmy's journey through 9th grade, which is told through a series of journal entries assigned by his English teacher, outlines his continual struggle with bullies, losing weight, and finding his place. This story also touches on mental health, abuse, and bullying.
Before starting his successful career as a writer, Michael Buchanan worked as a high school and college math teacher for 31 years. Buchanan and co-author Diane Lang have written "The Fat Boy Chronicles," "Stealing First: The Teddy Kremer Story," and are in the process of writing a sequel to "The Fat Boy Chronicles" in the perspective of another character from the book, Sable Moore. Buchanan also worked as a screenwriter for the film adaptation of "The Fat Boy Chronicles" and for a feature documentary "Spiral Bound."
"To me a lot of the point of the book is as much as it is for kids who need the hope, it's for the kids that can enable hope in somebody that's in their class [or] their neighborhood," Buchanan said. "[It is for people] to recognize that there is probably somebody close to [them] that needs a pat on the back that day and how easy it is to be kind."
"The Fat Boy Chronicles" is an inspirational tale about always having hope and never giving up.