Spanish Honor Society donates handmade blankets to children's hospital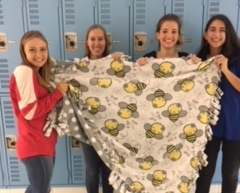 Amy Orr, Staff Writer
November 27, 2017
Prior to the Thanksgiving Break, Starr's Mill's Spanish Honor Society continued one of their many service projects by hand-making blankets to donate to children at Children's Healthcare of Atlanta.
"To see [the students] doing a service project like that is amazing because I think the world of my students," Spanish teacher Madeline Rodriguez said.
Emma Wernecke, a former Spanish Honor Society member, started this project two years ago at Starr's Mill. This year, her sister and Spanish Honor Society president senior Elena Wernecke took over the project. The students met once in October and November, with their own materials, and formed groups to produce the blankets. The sisters' mother even helped out by teaching the students a new technique of making the blankets that made them easier to create.
The students produced about twelve blankets to donate, and Elena will deliver them to the hospital. What makes this project different from previous years is that the members took pictures with the blankets they made and the children will the receive the pictures along with the blankets.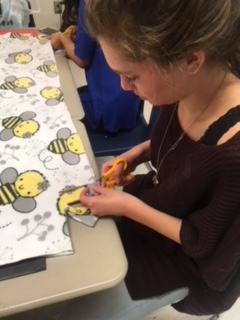 "The [Spanish Honor Society] members benefit [from the service project] because they know what they are doing is going to a good cause," senior Spanish Honor Society officer Bryce Smith said.
Starr's Mill's Spanish Honor Society is based on academics, unlike the Spanish Club. For students to be invited into Spanish Honor Society at Starr's Mill, they must have a 95 percent for three consecutive semesters in Spanish. Much like Starr's Mill's National Honor Society, Spanish Honor Society members must be junior or seniors. The society also requires its members to complete service hours each year. They participate in many projects, such as tutoring, donating pet food to seniors in the county, and the current project of donating handmade blankets to the children's hospital.
This blanket project extends the society's work all the way to Atlanta. Piedmont Hospital in Fayetteville is opening a new cancer center, and Rodriguez hopes to be able to work with them also.
"We're exposing the students to service projects and caring," Rodriguez said.
Spanish Honor Society also participated in bilingual storytime at the Peachtree City Library. Starting last month, the members read bilingual books to children at the library once a month. The librarians then completed crafts and entertaining projects with the children. This provided Spanish Honor Society members with a way to share their ability to speak another language.