Game on!
Starr's Mill teachers find fellowship in annual street hockey game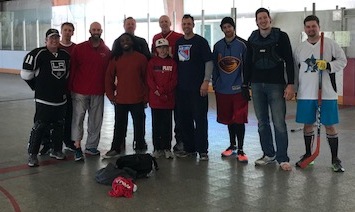 To close out 2017, several Starr's Mill teachers played street hockey on Dec. 30 at the Kedron hockey rink. Having the memory of playing hockey in middle school, Shad Genovese, an English teacher came up with the idea and organized the event.

One of the social studies teachers, Mark DeCourcy, participated in this event. "We grew up playing hockey when we were kids. It's just boys out having fun," DeCourcy said. "It's reliving old stuff. It's just a lot of fun."

Many teachers have been coming out on the Saturday before New Year's Day to play street hockey. The tradition started on the tennis courts at the neighborhood where Genovese lives.  However, for the past two years, the annual game has been played at the Kedron facility.
This year, Principal Allen Leonard took part in the event for the first time.

"We get a chance to run around, get exercise and [have] fellowship with people that we work with outside of school," Leonard said.

The tradition of Starr's Mill teachers playing street hockey has been around for six years now, and Genovese plans to continue this event next year.

"I remember the first time I played," Genovese said. "I thought it would be fun, but then when you're there, it's more fun. You just can't describe it."