Belleza y estética at the High Museum of Art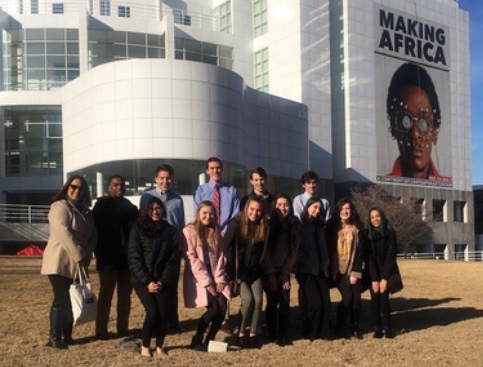 Amy Orr, Staff Writer
January 30, 2018
In mid-January, students in the Advanced Placement Spanish class, accompanied by their teacher Madeline Rodriguez, visited Atlanta's High Museum of Art.
"It was a good way to have immersion outside of the classroom that also corresponded with the curriculum," senior AP Spanish student Madison Martin said.
AP Spanish class is divided into "temas" or themes rather than units. The class is studying "belleza y estética," which translated means "beauty and aesthetic." Visiting the High Museum provided the students an interesting visual of their current theme.
"[The tour] helped with our listening skills," junior AP Spanish student Jackie Laureno said.
The class took a guided tour in Spanish so that they could practice listening to the language in context. After the tour, the guided discussed with the students about their classroom studies. Then, they toured the rest of the museum, exploring exhibitions, including Ashley Bryan, an African American children's book author and illustrator, and the Martin Luther King Jr. exhibition.
"It was a good way to practice listening skills outside of the classroom," Martin said. "Also, we grew closer together as a class when we went on that field trip which I think is important."