Students place well at German Convention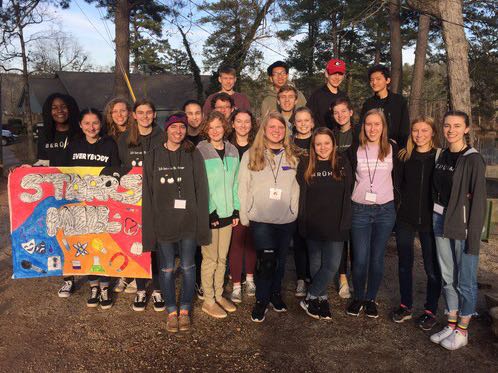 Every year, the German students at Starr's Mill go to German Convention to compete and build relationships with other students in Georgia. German Convention is a core curriculum competition, that lines up with the academics in German class. This year, the event was held on Feb. 2-3 at Georgia Future Farmers of America Center.
German convention has been a yearly event ever since German teacher Antonela Kljajic came to Starr's Mill six years ago. The convention has different themes every year, and this time the theme was centered around famous German-speakers.
"I feel great about [German Convention]," Kljajic said. "We took away 18 awards in total. That is more than the years past, coming in the fourth place finish."
There are various categories the German students can compete in at the convention. Students can participate as a group or an individual to win awards. This year the Starr's Mill German students placed fourth overall at the convention. Results were as follows:
Individual competitions
Level 1:
Sophomores Alexis Allen and Jay Yao: 1st place in Paired work (Partnerarbeit)
Level 2:
Sophomore Jaeyoung Choi: 3rd place in Spelling Bee (Buchstabieren)
Sophomore Nicole Di Vinitz: 3rd place in Role Play (Rollenspiel)
Level 3:
Junior Cassidy Haycock: 2nd place Vocab Bee (Vokabeln)
Juniors Becca Davis and Jenna Sanders: 2nd place Paired work (Partnerarbeit)
Level 4:
Senior Marleena Tamminen: 1st place Role Play (Rollenspiel) and 1st place Written Test (Schriftliche Prüfung)
Seniors Marleena Tamminen and Ainslie Schmidt: 1st place in Paired work (Partnerarbeit)
Level 5:
Junior Laura Anderson: 3rd place in Extemporaneous Speaking (Stegreifreden) and 3rd place in Story retelling (Nacherzählung)
Group
2nd place in Lip Sync
Direct to quarterfinals in Quizbowl
Along with the competitions happening at the convention, students also participated in projects that were judged and placed. The projects are different from the competitions because students must be done with the projects before they go to the convention.
Projects and baked goods
Junior Becca Davis: 1st place in T-Shirt design
Sophomore Nicole Di Vinitz: 2nd place in Plätzchen
Junior Laura Anderson: 3rd place in Plätzchen
Sophomore Nate King: 2nd place in Schwarzwälder Kirschtorte
Apart from the competition, students can also go to interest sessions as part of the convention, giving students an opportunity to interact with other students from other schools.
"I think everybody had a really good convention," Kljajic said. "I think everybody had a good time, but most importantly [they] saw the value in doing something like this."