Octagon Club spreads kindness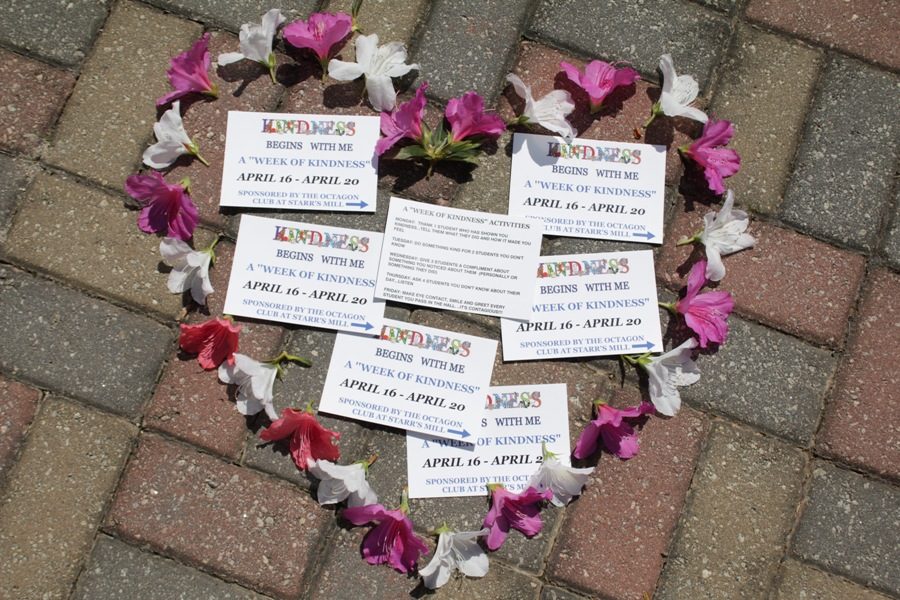 For the first time at Starr's Mill, the Octagon Club will host and celebrate a Kindness Week. Students will be encouraged to participate in a different activity promoting kindness each day of the week from April 16-20.
"I feel that with everything negative that's been going on lately in the news that events like these are the kinds of things that can make a difference in our lives," Octagon Club sponsor and Peachtree City Optimist Club representative Nancy Britton said.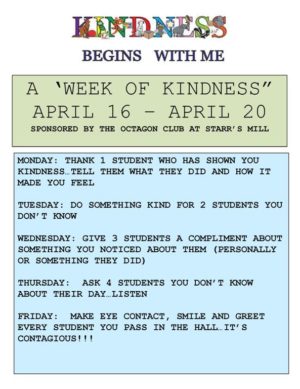 The Starr's Mill Octagon Club is a community-service based club sponsored by the Peachtree City Optimist. The idea of holding a Kindness Week was brought about by the Optimist International organization. Britton and fellow sponsor Sean Hickey incorporated the proposal in the Octagon Club's agenda with the support of its members.
"Our club is about doing community service, changing our school, changing our community, and changing people's lives, which is something I believe we can do through this event," Britton said.
Octagon Club members are spreading the word of the upcoming Kindness Week through posters, postcards, and announcements. The goal of the project is to encourage students to reflect on their actions and realize that kindness is the best choice.
"I believe that the Kindness Week will start a chain reaction and students here will start passing kindness around while at school," sophomore Octagon Club member Allyson Barron said. "That's really what the club is hoping for."
The Octagon Club anticipates hosting Kindness Week as a yearly project from now on. With the promotion of this year they expect more participation in following years and wish to make Kindness Week a truly school-wide event.