Special event promotes community growth
The Special Olympics was a spectacular event this year. Volunteers and athletes spent the day participating in activities and enjoying each others company.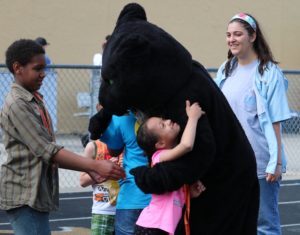 "The Special Olympics is one of the best ways to truly bring a community together," Starr's Mill junior Ansley Osborne said.
The majority of volunteers and athletes were from Fayette County schools, but the Joseph Sams school and volunteers from Eaton participated as well. The event was held at the Fayette County High School Football field and volunteers from each school helped to bring this event together. The athletes participated in the long jump, softball throw, shot put, and 100-meter dash. Activities like badminton, horseshoes, and ladder toss were offered to the participants and volunteers alike during their breaks.
"Let me win. But if I cannot win, let me be brave in the attempt." – Special Olympics Athletes Oath
Special Olympics is for the community. Athletes, students, and volunteers come together in this important event to grow and create relationships. For the athletes, their confidence is boosted and they see that there is an abundance of people who support and challenge them in their efforts. "[The athletes] get to experience support from their peers and they are able to create relationships," Starr's Mill senior Lindsey Tucker said. The athletes were excited to be at the event and spoke of how much fun they were having participating with their friends.
Scroll through the gallery below to see more images from Special Olympics.
"I think it's really important for people to be involved with things like this," McIntosh High School junior Jacob Brachey said. "The special needs students are so important and we can always find ways to make them feel that way." There are only a few events that bring together the community in this manner. Everyone socialized and came together to make this event the best it could be.
"I'm so excited for PALS and the amount of work they are doing throughout the community," Fayette County High School senior Alyssa Klinger said. "I can't believe this is my last year participating in this event, but I know that this will continue to grow."