Collins family builds support network for people with disabilities
In every community across America, there is a smaller community of people with disabilities. These people exist to us as our fellow classmates, our co-workers, our friends and our families. But there are many of us who are simply unaware of the struggle that these people face every single day, especially in trying to live an adult life.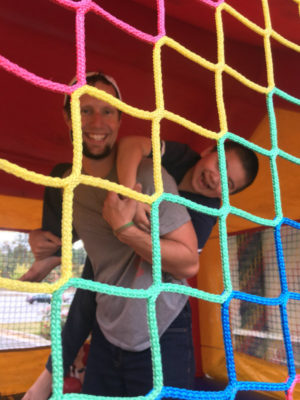 Around nineteen percent of the U.S. population has a disability. With around 350 million people in America, that's 66,500,000 people with disabilities that are often limited in resources and living situations. Around 90 percent of adults with disabilities live at home with their aging parents. This is the unfortunate reality for these people, and it calls for a change.
Fayette County is fortunately growing more considerate toward students and adults with special needs. We see this in the mounting number of activities and supports offered at schools and public spaces. However, there is always room for improvement.
When Clearwater Academy teacher Tommy Collins was a junior in Sandy Creek High School, he volunteered at a Special Olympics event for the first time. It was then that he discovered how much he loved working with people with special needs. "I got out there and I really enjoyed it. I thought it was fun," Tommy said. "I started volunteering elsewhere." While studying for both bachelor's and master's degrees in Special Education at West Georgia and Grand Canyon University, Collins worked at Camp Hawkins, a summer camp for kids with special needs.
After marrying Ashley Collins, a Starr's Mill English teacher, the couple began working together at Camp Hawkins in the summer of 2006. "Our wedding vows actually included, 'I promise to support you in your ministry'," Ashley said. Tommy joined Hawkins' administrative team for four years, until he and Ashley decided to start a family.
Tommy has worked in special education at multiple schools over a thirteen-year time period. This included three years at North Port High School, Fla., three years at Bennett's Middle School in Fayetteville, seven years at Whitewater High School in Fayetteville, and most recently, one year at Clearwater Academy in Tyrone.
While working at Whitewater, he and Ashley began loosely volunteering with Young Life Capernaum, a Christian ministry with programs dedicated to kids with disabilities. They still volunteer at Capernaum in their free time. "Capernaum is a wonderful ministry that encourages inclusion between teenagers, with and without special needs," Ashley said.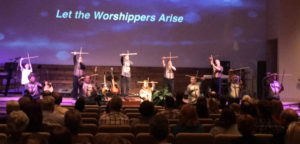 The Collins then decided to partner with parents of adults with special needs who started a club modeled after Capernaum called Club 2.0. Two of the members of Club 2.0 are leaders at Capernaum. The club meets every first and third Thursday of the month at Grace Evangelical Church, Tyrone, and Word of God Lutheran Church, Peachtree City. At their first meeting of the month, they have dinner and have a Bible study. At their second meeting, they practice for Fish Stix, a dowel rod interpretive ministry. They do interpretive routines to music during these meetings.
"Tommy and I try quarterly to take [Club 2.0] members to do something fun and social," Ashley said. Over the last year, the club has been to the Senoia races, a Georgia State football game, and a Georgia State basketball game.
However, the Collins family realized that there was a problem, specifically for adults with disabilities. Under Georgia education laws, people with disabilities only receive special education services until they turn 22. "There was a girl in Tommy's classroom that was there one day and gone the next, because her birthday came," Ashley said. "It changed [Tommy]. His heart changed. He realized that there's a completely unreached population of adults with special needs."
Through a parent of one of his former students, Tommy met Jennifer Conforti in the summer of 2017. She is the founder and executive director of Two Sparrows Village, a nonprofit organization dedicated to creating an intentional community for adults with disabilities.
"We had the idea of creating a day program for adults with special needs in Fayette County, but we didn't know how to," Ashley said. "Jennifer Conforti had a vision for exactly what we were thinking about."
After meeting the Collins, Conforti asked Tommy to join their board of directors at Two Sparrows Village. "He really is a great community connection," Conforti said. Tommy agreed to the position, and they all began working together under a common goal — to provide a housing community for adults with special needs.
"Something needs to be done. These adults with disabilities deserve to have place to live, so that they can experience independence, job training, even kitchen skills," Conforti said. "There's really no services for them down here."
"
I think what I've learned is that, for a population that often receives pity, they have so much to give."
— Ashley Collins
Two Sparrows Village is currently trying to raise money to build a community here in Fayette County. They aim to complete the project in the next two to three years. You can register to donate on their website. Currently, they have collected almost $30,000. They will also be hosting a garage party at Atlanta Motor Speedway on April 20.
"Our tagline is 'We belong'. We want everyone in Fayette County to know, you're welcome to come work with our people," Conforti said. "We need your help for our residents to feel they belong. Inclusion is key."
The Collins are happy to be working alongside Two Sparrows Village to accomplish their goal. "I hope that twenty to thirty years down the road, parents of adults with special needs know that there's a place for their children in the world. We want to offer them support, so they can live their life to the fullest," Tommy said. Ashley and Tommy are also planning some big events in the near future, including their second Jesus Prom on March 16, and a golf tournament at Braelinn on April 11 to raise money for Clearwater Academy.
"We're lucky to live in this area. Fayette County has a lot of awareness about special needs," Conforti said. "This started decades ago from people in the community spreading awareness."
Working with people with disabilities has positively impacted the Collins family. "Since I first started, I've learned a ton. [People with disabilities] have incredible minds for things we wouldn't expect. Some have such amazing talents, like singing voices, a memory for music, playing the guitar, the piano… Just giving these kids a few minutes, listening to them, they'll change your life," Tommy said. Because they value service so highly in their family, the Collins' hope that their children will grow with similar hearts. They want them to learn from the work that they're doing, even if they choose not to follow in their footsteps.
"Service is part of what we do as a family. It was very important to us that our kids see all people the same. We're trying to expose them to all kinds of people," Ashley said. "People are people, no matter what. Everybody's worth it. I think what I've learned is that, for a population that often receives pity, they have so much to give."