CBVI students bring holiday music show to Starr's Mill
On Dec. 8, the Starr's Mill Career Based Vocational Instruction class performed their sing-along holiday show in collaboration with the sixth grade women's chorus and the Men of the Mill. They rehearsed for two weeks prior to the performance, and have kept a tradition of creating a holiday show for nine years.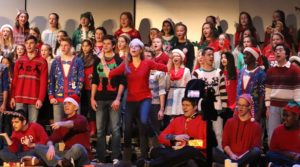 The show holds a special place in the hearts of both the students who participate in it, and the teachers who assist with the production. "We realized many students have a schedule off-campus. We started the music program so they could experience music once a week," Rising Starr Middle School choral teacher Christy Todd said. The teachers wanted to give the CBVI class a chance to create a musical show and to perform that show with others in their community. "Many of [the students] are talented musically. This is a chance for them to collaborate with their peers on music," Todd said. The participating teachers have as much fun collaborating on it as the students do.
"[We do this] because it's awesome [and] because it's fun. We want to share our joy with others," adapted curriculum support and CBVI teacher Courtney Savage said.
Everyone who came to support the performers had the opportunity to experience a joyful sing-along show. With Christmas on the way, it really aided in raising everyone's spirits. "[This show] helps get everyone into the holiday spirit of making music together," Todd said. The show also helped Starr's Mill students relax prior to the last week of the semester. "It's a great way to get into the holiday spirit, but to also help loosen up before exams," Savage said.
The teachers are thankful for being able to participate in this special music show. "I like that were able to share our talents with our community and our school," Savage said. "I'm glad that we have a school environment that permits us to be able to perform and be supported by our peers."