SkillsUSA students 'starr' in region competition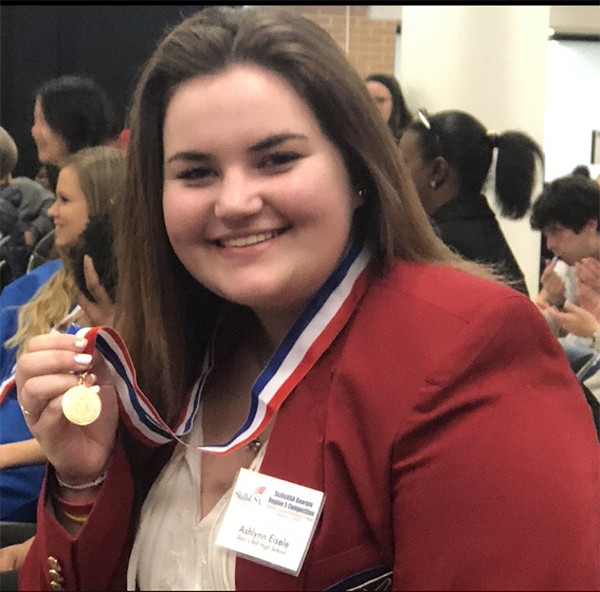 The Career and Technical Education programs across the country are celebrating the value of CTE through the spirit of competition.
To add to the accomplishments of the CTE programs at Starr's Mill, SkillsUSA had their regional competition on Feb. 1. It took place at the Southern Regional Technical College, and students competed and participated in events that helped to prepare them for careers in trade, technical and skilled service occupations.
"When we go, we see all kinds of things because they are all exhibited throughout the conference center," audio video technology film pathway, digital media, and animation pathway teacher Patt Coleman said.
Junior Ashlynn Eisele placed first for medical assisting in region five and top ten out of all the regions. Additional participants from Starr's Mill included senior Tatmeen Khimani and juniors Caden Robertson and Thomas Allen.
"What [SkillsUSA does] is get prepared for the competition, we concentrate on the community service, information on how to do a resume, have guest speakers," Coleman said.
SkillsUSA is a national organization that helps each student excel to ensure America has a skilled workforce. SkillsUSA is a club and student organization that is fairly new to Starr's Mill since it only started four years ago.
The audio, video and animation classes are the only SkillsUSA classes at Starr's Mill. However, since the organization is a skill-based program, students who are not in those classes could also participate in the club and the competitions that take place. For the Mill, Family Career and Community Leaders of America and Health Occupations Students of America also participate.
"They can only compete in one area at the state," Coleman said. "If they are not my student, they can come to SkillsUSA, we can find them something they can compete in."
Eisele is the only student to be automatically qualified for the state competition, while other students in the club are practicing to also compete in events at state.
The State Leadership & Skills Conference will be held at Georgia International Convention Center from March 21-23.