Overlooked no more
PBIS program recognizing actions over ideas
At the end of the 2018-2019 school year, Starr's Mill began to introduce the Positive Behaviors Interventions and Supports program throughout the school. With this program, faculty and students alike are encouraged to be respectful, accountable, and responsible. 
"PBIS [in Starr's Mill] is a way of reinforcing things that we do well, but perhaps we overlook," Assistant Principal Scott Robinson said.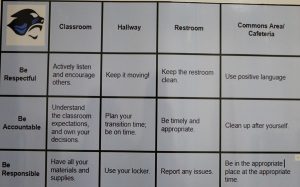 The administration decided to implement the three principles of being respectful, accountable, and responsible, for a number of reasons. Specifically, these terms are broad so that everyone can interpret it differently and so that they can be acted upon in various ways at Starr's Mill. 
Throughout Starr's Mill, students and faculty can find posters that have examples of what it means to exhibit these traits in various places around the school. These posters are displayed to remind everyone to take action and incorporate the PBIS characteristics in their day. 
To thank those who display the PBIS traits on a daily basis, the administration will award one underclassman, one upperclassman, and one faculty member each month. The winners will be selected through a nomination system sent to their email. Everyone in Starr's Mill will have the opportunity to write about a specific time where they see someone displaying the PBIS characteristics. 
"We link it to actions because PBIS isn't just about the 'good person,' it's about actions," Robinson said. "We are very specific that it is actions that we can promote and celebrate."
Custodian Tri Ha has been announced as the first PBIS faculty member of the month. His daily actions throughout Starr's Mill have proven to exhibit the PBIS qualities. Senior Zach Livsey and freshman Courtney McKenna were selected as the first PBIS students of the month.