Middle school chorus preparing for annual fall show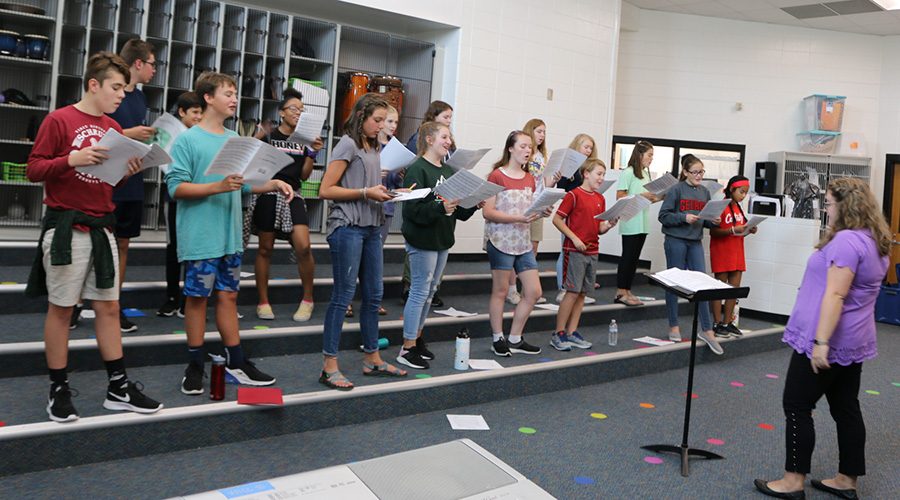 Under the direction of Bonnie Krider, the five middle school choirs will put on their nature-themed concert for the 23rd year in a row. 
The students have been preparing for this annual concert every day since the beginning of the year. The mixed choir has held additional rehearsals outside of school. The students have been practicing with tracks and prepping their uniforms to get ready for the concert. 
¨This is our one real formal concert for the year, so I think they really learn what a professional concert looks like and how to prepare for it," Krider said.
The biggest challenge for the choral department this year has been having enough time to practice with the mixed choir, an advanced audition chorus made up of 7th and 8th-grade men and women. They practice during the Paws time on Wednesdays. Since that has not started yet they have to practice after school and have only been able to practice four times.  
"Our students are real leaders and have worked hard on their own so when they come together they make magic happen," Krider said.
Krider thinks that the best part of the show this year will be the 8th-grade women's chorus since their songs are remarkably beautiful and the group has never sounded more mature. 
Those attending the concert should be on the lookout for the student choreography in one of the men's songs, the student pianist in between pieces, and an instrumentalist on the 6th-grade girls' song. 
Mark your calendars for 6:30 p.m. on Sept. 26 when the Rising Starr Middle School Chorus will put on their annual fall concert in Willie Duke Auditorium.