Scouting for a cause
Senior Joy Inya-Agha using interest to raise registry awareness
From selling thin mints to hosting a blood marrow and stem cell drive, senior Joy Inya-Agha is using her Girl Scout background as a platform for a greater cause. 
Inya-Agha is a Girl Scout of the highest rank, an Ambassador, which places her one rank above a military recruit. She's been in Girl Scouts since the second grade and is thankful for all of the opportunities that the organization has provided her. 
"Girl Scouts is an organization for young girls from kindergarten up into twelfth grade where we form troops, we do activities together and earn patches," Inya-Agha said. "Like activities that help the community, they help us learn survival skills, they help us learn just a variety of different things and it opens the door to a lot of opportunities." 
Some of the various activities Inya-Agha has been able to participate in include scuba diving, climbing up colossal trees, roller skating, stargazing, horseback riding, putting up tents, or building a survival shelter out of sticks, and so much more. 
"I mean that's what's kind of fun about Girl Scouts," Inya-Agha said. "You try things so that you can at least say you've done it instead of just being like 'I'm too afraid to try that, I don't think I'll be good'. Girl Scouts has just gotten me to try a lot of things that I wouldn't have done on my own." 
There are hundreds of patches for all of the possible activities many of which are done as a troop. In a troop, there can be as many or as few girls, and in the older levels will meet up once or twice a month wherever the troop leader decides to meet. As girls go through the ranks, beginning as a Daisy and ending as an Ambassador, there are different levels of awards one can receive. 
"The Girl Scout organization has three different tiers of projects that you can do," Inya-Agha said. "The Girl Scout Bronze Award, Silver Award, and then Gold Award. The gold award requires 80 hours of community service on a project of a girl's own design."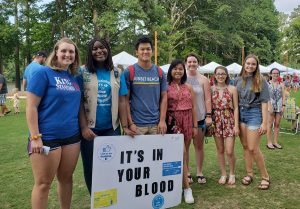 Inya-Agha's Gold Award project is inspired from her father, who is well now. When she was eight years old, her father was diagnosed with chronic lymphocytic leukemia, which has to be treated with chemotherapy. After trying six different types of chemotherapy, and not one of them worked. The next step was to try a stem cell transplant, but there was one issue: a transplant has to be a perfect match to the recipient's ethnic background. Inya-Agha's father, with a Nigerian background, could not find a single person on the stem cell donor's list. 
Luckily, his sister was a suitable match and he is healed. 
"Going through all of that just made me realize that it's not acceptable that there's no one on the registry for people who are more than one race or maybe from a different place," Inya-Agha said. "So what I'm trying to do is just make people more aware of this, make people sign up for this, because simply signing up and agreeing to give your cells, you could save someone's life." 
Another effort towards her cause is very similar to an option on one's driver's license. Like having the option of being an organ donor, Inya-Agha is about to discuss with Senator Valencia Seay about also providing the option of being a stem cell and bone marrow donor. This of course wouldn't require the death of the person, like an organ donor would require, but would raise greater awareness to the cause and place more diverse people on the registry. 
This Tuesday, Wednesday, and Thursday, there will be an opportunity for students to donate their cells in the cafeteria during all three lunches, contributing to Inya-Agha's cause and Gold Award. She will be working with HOSA: Future Health Professionals for the drive.
View Comments (1)