Taran Smith
Panther grad finds the strength to follow his dreams
It seems that now students are pressured more than ever to decide a major and even a career while still in high school. In many cases, it's hard to decide where exactly you'll fit in until you try it in college. Panther alumnus Taran Smith realized soon into college that he wanted to change his career path entirely.
"
I was kind of out of cards and I didn't really know what to do with my life.
— Starr's Mill alumnus Taran Smith
As a student at Starr's Mill, Smith looked forward to a career in engineering. Smith would later realize this was far from his true passion. At the Mill, Smith was a well-rounded student playing both football and soccer as well as being a member of the Student Advisory Board and Beta Club.  
"He had always thought he was gonna be in that direction [engineering], but Taran is really good with people," science teacher Dan Gant said. "He's very social. He likes to work with people, so it didn't surprise that he wasn't going to do that. It did surprise me that he was going to be a fitness person."
After graduating from the Mill in 2011, Smith attended Kennesaw State University still with hopes of studying engineering. Soon into college, Smith realized his mistake and like many other students decided he needed to switch his major. His only question was what to do now.
"I had a good relationship with [Gant] all throughout high school, and I just called him one afternoon because I knew I didn't want to become an engineer. I was kind of out of cards and I didn't really know what to do with my life," Smith said. "He just kind of led me down the path to do an exercise science major, actually."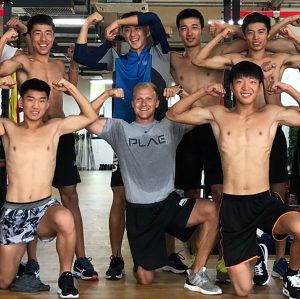 Following his conversation with Gant, Smith met with Kennesaw State strength coach Jim Kiritsy. Smith was immediately moved after talking with Kiritsy and knew from that moment on he wanted to become a strength coach. Smith and Kiritsy's shared passions for mentoring and coaching were ultimately the deciding factors for Smith.
"He didn't need to be somewhere where he was not going to work with people. He's really good with people," Gant said. "I just told him he needed to find his passion and follow that, and if it wasn't going to be his passion, he was going to be miserable."
After his career revelation, Smith ended up graduating from KSU with a Bachelor's in Exercise Science and a minor in coaching. He then received an MBA from Thomas University where he attended graduate school. While working as a graduate assistant at Thomas University, Smith was recruited by a coach from the Chinese Olympic Committee to work as a strength coach for Team China.
"I got offered a job to move to China and then moved there within the week, so I had no idea what I was getting myself into," Smith said. "I just had to jump into it and go for it, and it turned out to be one of the best experiences of my life."
As soon as Smith graduated from Thomas University he began working for Team China in their Olympic programs. Smith worked with the country's national rowing teams, cross country team, ski team, and snowboarding team and was the director for both the cross country and snowboarding teams. Although the job was a tremendous opportunity for Smith, it also came with its difficulties. 
"It was very tough. Every day was a new challenge, a new obstacle that I had to overcome and adapt to," Smith said. "I didn't really know what to expect working across the world. I mean it was really tough. Every single day I was fortunate to be surrounded by a lot of other really great coaches that really helped me through it." 
"
It was definitely difficult for us to break that barrier.
— Taran Smith, class of 2011
Perhaps the biggest struggle that Smith faced was working as an American in China and being able to gain trust and respect in doing his job. As a foreigner from a rival team's country, this clearly wasn't an easy task. 
"There was definitely challenging times as far as people doubting who I was because I was an American," Smith said. "It wasn't too open for us to work for the Chinese. They weren't too excited having Americans coming in and necessarily start coaching their athletes. It was definitely difficult for us to break that barrier."
Although Smith enjoyed his work and China and spoke praises of his adventure and the friendly people he worked with there, after a year and a half aboard Smith decided to return to the States.
"When I first became a strength coach I just wanted to work on the highest level. That's kind of all I cared about, eventually working to go to the Olympics," Smith said. "Once I got into that I kind of quickly realized I more so became a strength coach so I could help develop and mentor young athletes to become better leaders for tomorrow."
Smith now works at Montverde Academy in Clermont, Florida, as a strength and conditioning coach. Working at a high school has provided Smith the opportunity to impact his students as Gant and other teachers at the Mill affected him. 
"
Whatever drives you find your passion and just go for it you never know where it's gonna take you.
— Panther alumnus Taran Smith
"I think high school had a big influence on me on that, because I had a lot of great mentors, a lot of great teachers, and now the effect that they have on me as an adult is now trying to relay some of those lessons they taught me onto younger kids now," Smith said. "So that's kind of why I came back. I decided to leave China to work at a high school because I felt like that was kind of my calling."
Smith advises current students at the Mill looking toward their futures to take advantage of all and any chances that are given to them to further their career. Even if they are uncertain, Smith recommends taking the chance because the reward could be incredible.
"Keep your options open. You never know what opportunities may arise. Always say 'yes.' Jump at opportunities. Don't be scared. Don't be hesitant that you might fail or that it may not work out," Smith said. "Whatever drives you find your passion and just go for it you never know where it's gonna take you."
Smith's journey of following his dreams even when they led him across the globe, reinforces the idea that Starr's Mill students can accomplish whatever they desire. Although Smith's path to strength training took a rocky start, the clarity he was given through his college experiences and mentors led him down the road to success.
Leave a Comment