Leonard shows the way for new school year
After being out of the building for almost six months, returning to Starr's Mill in person seems like a foreign concept to most students. As exciting as it is to finally get back to school, this year is going to be filled with many new changes. 
"I'm glad that I work in a high school, and I'm glad I work in this high school," Principal Allen Leonard said. "[Starr's Mill] students…want to do the right thing, and the more they can do that the more we can get back to normalcy."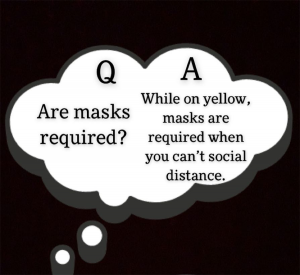 One of the biggest changes to expect as students start the year is the new hybrid schedule. FCBOE began with all schools on yellow status, and students only attending school in person two out of five days a week. For the rest of the week, everyone will be using digital platforms, like Schoology and Zoom, to participate in online learning.  
"[The county] wrote some algorithm to, as much as possible, create an even split between our classes so that you don't have the A group be 20 kids, and the B group is 8 kids, and the 20 kids are not very distanced at all," Leonard said.
A few other changes to expect this year include the new requirement to wear masks in the building when students and staff are unable to socially distance, the one-way hallways, and adjusted lunch seating. During lunch, the tables in the cafeteria will be separated six feet apart and will only allow for two people to be at each table. Seating has also been expanded into the auditorium lobby and 300 hallway.
"The cafeteria will be doing prepackaged foods, and the lunch ladies will be handing it out to students," Leonard said. "We ask that parents no longer drop off lunches for students as well if you want to bring a home lunch, as many students will be doing, we ask that you take it with you in the morning."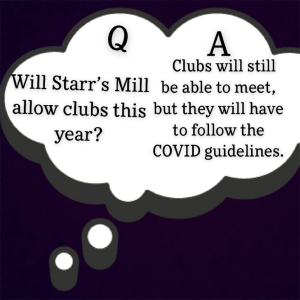 Last year, there was a debate between students and administrators regarding whether backpacks were a danger or not.
"It's not that backpacks are no longer a danger. It's what's a bigger concern: people tripping over bags or people getting COVID?" Leonard said. "We had to make the decision of what will better keep our students safe." 
When it comes to the online school days, students can expect a more advanced model of what they experienced toward the end of last semester. The expectation is that every student is engaged in classes five days a week. 
"We have to have some flexibility in there. We know that [when we] don't have our students with us we can't control their schedules. We have students that will have to be the babysitter for younger siblings, and we have students that have become the breadwinner for their family, We can't expect everyone to log on at 8:00 every morning," Leonard said. 
This year is going to bring a multitude of changes to the school environment students are used to, but administrators hope to keep as much normalcy as possible. Leonard believes that if everyone follows the new guidelines, and keeps a positive outlook, this year can still be amazing. 
"Despite the new changes, we can still make this a great year, and I look forward to seeing everyone back in the building," Leonard said.