BEAUTIFUL, OUTSTANDING, EXTRAORDINARY
"Beautiful," "outstanding," "extraordinary" are the first three words that come to mind for the Starr's Mill production of "The Hunchback of Notre Dame." 
"The Hunchback of Notre Dame" takes you back in time to Victorian France. The musical is a portrayal of Victor Hugo's classic story.
A young disfigured man named Quasimodo, the bell ringer for the Notre Dame cathedral, lives up in the tower of the cathedral where his only friends are the gargoyles. 
Quasimodo has always longed to be with other people, which has him take the chance of leaving the cathedral and meeting the beautiful gypsy Esmeralda.  
When the enchanting Gypsy catches the attention of Quasimodo's uncle Frollo who holds a deep resentment toward Gypsies, Quasimodo makes it his mission to protect her at all costs even if it means turning against his guardian.
Cast 
All of the cast members were amazing in their portrayal of their characters, especially the main characters. Sophomore Aleena Soto as Esmeralda, sophomore Matthew Little as Frollo, and senior Patrick Lacey as Quasimodo were expressive and emotional, making the show all the more spectacular. When Esmeralda died you could hear the pain and anger coating Quasimodo's voice as he grieved for her. 
"I think they did a fabulous job," director Lauren Kuykedall said. "They worked very hard."
They all made it seem so real like you were actually there at the time.  What made it possible for it to feel like it was the energy and the atmosphere of the cast. You knew when it was serious or all fun and games.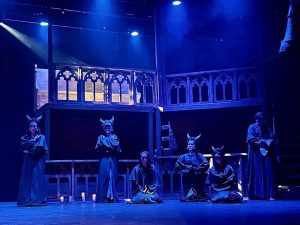 "My favorite part was being able to work with all of these people I love," Soto said.
Design 
The props made the play easier to understand. When the audience first walked into the auditorium, the props created a church-like atmosphere, like you were about to sit and listen to a priest.
The trap door made it seem like they were traveling upstairs into the tower where Quasimodo stays.
Music 
The music was a big part of the show. In almost every scene there was a musical number. The music came from Disney adaptations such as "Hellfire," "The Court of Miracles," and "Topsy Turvy."    
"Our favorite song is 'The Court of Miracles' because we all are in it," freshman Karla Plymel said. 
This was Kuykendall's first Production at Starr's Mill. With all the music, acting, and amazing stage props and setup, "The Hunchback of Notre Dame"  performed by Starr's Mill High School Theatre was truly amazing and extraordinary in its delivery.
Leave a Comment