Doctored reality creates strange box office success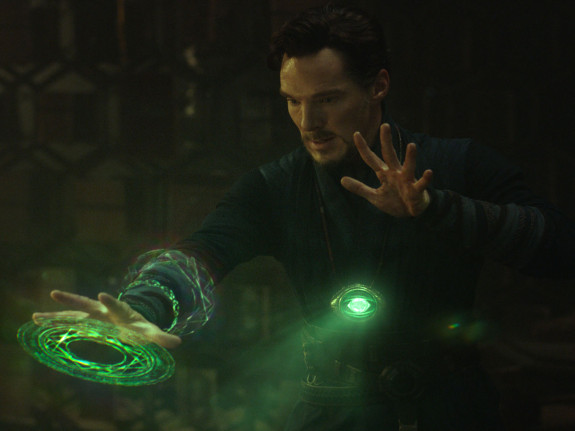 While most comic book readers are well-aware of the story of Doctor Strange, many movie connoisseurs have been struck with curiosity over the unfamiliar and captivating new film. "Doctor Strange," released on Nov. 4, introduces an action-packed and intriguing new addition to previous Marvel movies.
This film explores the life of Dr. Stephen Vincent Strange (Benedict Cumberbatch), a brilliant and egotistical surgeon at the height of his career. His medical success and monetary gain seems almost ideal until his reckless driving and over-confident attitude leads him into an awful car accident.
"
It is a story of someone whose greed causes the loss of everything he thought was important."
— Reviews Editor Brianna Payne
Horribly injured, Strange wakes in a hospital bed by the side of his girlfriend Christine (Rachel McAdams), only to find that his hands have undergone major surgery. He desperately tries to stay optimistic, while his extensive injuries are incredibly severe. He makes every attempt to fix his hands and return to his glory.      
As months go by, there is still not much improvement and his obsession to fix his hands takes a toll on his personal life. His hostility causes him to lose his girlfriend as well as much of his fortune, which he spent on numerous expensive, experimental, and unsuccessful surgeries.
Just when he has almost lost all hope, he finds his way to Kamar-Taj, an ancient temple for the healing of the mind and soul. There he finds The Ancient One (Tilda Swinton), an all powerful sorcerer who helps him learn the art of sorcery to help bring back his hand's abilities.
Being that Strange has a photographic memory, it comes as no surprise how fast he picks up the art of sorcery, even excelling further than other sorcerers in just a few days. His curious mind influences his impulsive decision to draw magic from the dark side to cast a dangerous time spell that is forbidden.
Other sorcerers draw all their magic from the dark side like Kaecilius (Mads Mikkelsen), the villain of the story who tries to kill The Ancient One in search of all the forbidden dark spells. Throughout the film, Strange fights Kaecilius on multiple occasions, as he uses all of his might to defend Kamar-Taj.
As a sorcerer, it is Strange's moral duty to protect the mystical world, while superheros like the Avengers have their duty to defend the known world. The filmmakers of this exhilarating new movie show this connection after the credits with a short and light-hearted clip that features the well-known Avenger, Thor (Chris Hemsworth).   
Although this film is clearly packed with intense and exciting events, one of the most impressive  attributes is the great use of CGI incorporated to satisfy the illusion of sorcery. Each spell cast seems more enchanting than the last and gives a sense of magic that prevails throughout every mystical circumstance.
Magic aside, the message this story communicates is stronger than any forbidden spell. It is a story of someone whose greed causes the loss of everything he thought was important, and despite every obstacle, he manages to make everything right for himself in the end. This fascinating story is well thought out and is guaranteed to keep the audience's constant attention throughout every captivating scene.
While there are many comedic moments throughout this film, "Doctor Strange" is no doubt a classic action/ adventure flick that appeals to numerous different age groups. It is rated PG-13 for some violence, but will be thoroughly enjoyed by any comic book or Marvel fan of any age.   
This movie exceeds every expectation had for the film adaption of the original comic, as the trailer gives an incredibly miniscule idea of whether or not the movie would surpass other Marvel films. It is ultimately an adventurous movie that will appeal to every emotion and is difficult to not enjoy.
"Doctor Strange" gives every kind of movie-goer a taste of what they look for in a good movie. This action-packed film shows how Marvel always manages to find a way to top their last film released, even when it seems unimaginable. This new movie is undeniably an incredible film that is exceptionally strange in only the best way possible.