Agatha Christie fans are all aboard for newest Hercules Poirot film
One snowbound train. One victim, stabbed to death in the night. Twelve suspects. Hercules Poirot may be the greatest detective in the world, but will he be able to solve the mystery?
Agatha Christie's eighth Hercules Poirot novel, "Murder on the Orient Express," was originally published in 1934. Since then, it has been adapted into a movie in 1974, in 2001, and now again in 2017. This latest adaptation is brought to us by 20th Century Fox and directed by Kenneth Branagh, who plays Poirot. There's no denying it, this film was beautifully made with a magnificent cast, gorgeous cinematography, and a nice dose of humor. Critics claim that this movie is wholly unnecessary, as the book and the 1974 film both tell the story well enough already. While that is true, the positives of the newest "Orient Express" film justify its creation.
"
It appears that the murder-mystery genre of film hasn't been killed just yet."
— Staff Writer Ian Fertig
As of this week, "Murder on the Orient Express" has grossed almost $100 million worldwide. It has struggled to attract audiences, as it opened just a week after Marvel Studio's latest blockbuster "Thor: Ragnarok" and on the same day as Paramount Pictures' cheap comedy "Daddy's Home 2." However, a profit was made, so this movie can overall be concluded a rough success. It appears that the murder-mystery genre of film hasn't been killed just yet.
Kenneth Branagh plays the famous mustachioed detective with humor and style. Poirot is brilliant, eccentric, and devastatingly honest. His dry humor gives the film levity despite dealing with the subject of homicide. Fans of his iteration will be pleased, because Kenneth Branagh's Hercules Poirot may return. In an obvious moment of indulgence, the end of "Orient Express" not-so-subtly sets up for another famous Agatha Christie story.
Branagh displays a wide range of attitudes and emotions throughout the film, including humorous, frustrated, polite, and angry. He's at his best when Poirot is thinking about or explaining the case, but he is at his worst when Poirot is lovesick.
For reasons unknown, this adaptation of the story introduces a mysterious former love of Poirot's who is implied to have passed away. When Hercules pulls out an old photograph of her and mourns her, his character is reduced from the brilliant detective to the worn-out "loved and lost" stereotype. It's an unnecessary indulgence that detracts from the quality of the story and the film.
Branagh's supporting cast is so talented that it's upsetting to describe them as the "supporting" cast at all. Johnny Depp plays the murder victim, a villainous man named Ratchett. Playing our twelve suspects are Daisy Ridley, Leslie Odom Jr., Penélope Cruz, Josh Gad, Derek Jacobi, Sergei Polunin, Lucy Boynton, Marwan Kenzari, Michelle Pfeiffer, Judi Dench, Olivia Colman, and Willem Dafoe. Their archetypal characters are the governess, the doctor, the missionary, the assistant, the butler, the count and countess, the conductor, the widow, the princess, the maid, and the professor, respectively. These characters would feel as engaging as drying paint if they weren't played by such a knockout cast.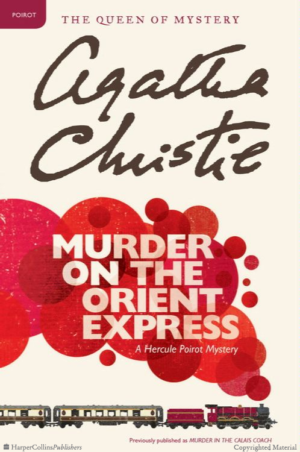 Unfortunately, it's difficult giving each actor and actress his or her opportunity to shine when there are twelve suspects and one detective all jostling for screen time. What time is given is used well, but if you're planning on watching "Murder on the Orient Express" just for Willem Dafoe or another one of the twelve, you'll have about ten minutes to enjoy them and another hour and forty-four minutes to watch without them. The best performances come from Daisy Ridley, whose character matches Poirot in intelligence and wit, and from Josh Gad, whose character is the most emotionally captivating of the bunch.
Second only to the cast, the visual appeal of "Murder on the Orient Express" is one of the best aspects of this movie. The landscape surrounding the train is the perfect snow-capped European countryside. The costume design is magnificent, with every man and woman appearing fashionable and appropriate for their character. Many of the long takes that work their way through the train are feats of filmmaking.
As for the book to movie comparison, the "who" in "whodunit" is unchanged, and once you have the same setting, characters, murder, and killer, there isn't really a way to diverge from the original plot. There are minor changes to reduce the run time and add suspense, but all changes are forgivable — except for Poirot's dead girlfriend, which should not have been added.
Audiences who are unfamiliar with "Murder on the Orient Express" will enjoy this newest film as a first exposure to the story. By all means, it's good, if not original. The movie stays on track, delivers performances from an exceptionally talented cast, and entertains its viewers for the hour and fifty-four minutes that it has to do so.