'Fall' for local writer's newest novel
How many times would you die for love? Five times? Ten? Grace Freeman would do it more than 41 times.
Grace is the main character from local writer Romily Bernard's new book "Never Apart." With several huge twists, the book keeps readers engaged until the very end and will leave them begging for more. Fans of her debut "Find Me" series will be thrilled to read Bernard's latest novel, as it has all of the same captivating qualities, while being entirely unique from anything she, or anyone else, has ever written.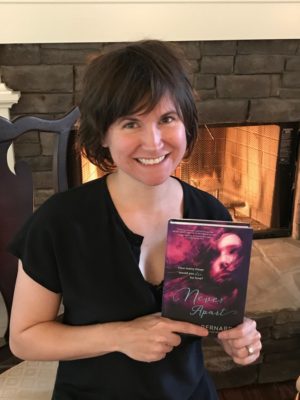 "Never Apart," set in the fictional small town of Boone, Ga., centers around Grace Freeman as she watches her boyfriend die over and over again. On one fateful night, Grace, her boyfriend Ander, and a friend of hers, Finn, fall into an alternate reality of the same small town that they are from and continue to do so every five days. Grace describes each new reality she enters as a "Fall."
Grace and Ander have no idea what caused it or how to make it stop. Even more threatening though is that they do not know why their former friend, Finn, keeps hunting them down and killing them in every single reality. Grace knows that she has to do something different to escape the torture of watching Ander die repeatedly, and she intends to do just that with this newest Fall.  
The book is divided into "then" and "now," telling the story of what led up to Fall while simultaneously telling the story of Grace's attempt to leave the nightmare that has become her life. However, in both time lines, Grace learns that not everything is as it seems.
"Never Apart" is a mystery, sci-fi, and romance all rolled into a single book without any one element drowning out another. The romance seems to be the main plot point at first, but as you continue to read, you realize that it is more of a race for survival and discovery not only for Grace and her friends, but the reader as well. Bernard does an excellent job of making each element of the story important and meaningful.
As always, Bernard does an exceptional job of capturing the reader's attention with her relatable characters. Even in seemingly fictional situations, it is easy to understand what motivates Grace's actions because she is so believably human.
The mystery and head-spinning twists will leave you hooked until the very end, unable to put it down. Captivating yet mysterious, local writer Romily Bernard's newest book "Never Apart" is one of a kind.