'Pet Sematary' reboot resurrects classic horror story
Sometimes, dead is better. And at Paramount Pictures, sometimes it isn't.
Last Friday, Paramount Pictures released a modern reboot of "Pet Sematary," based on the novel by Stephen King. This remaster captures the grisly story well, finding a respectable balance between honoring the original script and making positive change. Following a tried and true horror movie structure, "Pet Sematary" doesn't break any fresh ground, but this reboot is undeniably scary and a pleasure to witness.
"
[T]he story is a tragic tale of loss, revival, a murderous cat, and the ultimate temptation to use an ultimate power."
— A&E Editor Ian Fertig
"Pet Sematary" is one of King's many novels that has infiltrated pop culture and terrified generations of constant readers. Published in 1983, the novel follows the story of the Creed family and the Pet Sematary, a terrifying place that hides a secret burial ground that can revive the dead. Located in the mysterious woods of Maine, the story is a tragic tale of loss, revival, a murderous cat, and the ultimate temptation to use an ultimate power.
In 1989, Paramount released the first "Pet Sematary" film, which has been generally regarded as a good adaptation of the story ever since. With the release of this new version in 2019, the usual questions of the film's necessity were raised. A reboot of a movie based on a novel decades old surely couldn't be big news, right? The story has been told already. And although the 2019 "Pet Sematary" may not satisfy every skeptic, the product is worth viewer's time, especially if the story is new to them.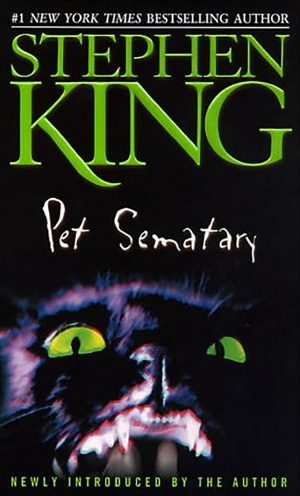 The plot is kept respectfully similar to the original novel. Any changes, and there are some big changes, feel like a necessary adaptation to meet the needs of an on-screen product. The ending of the film shifts radically from the original, but this shocking change was a master stroke that immortalized the movie in my mind as a great one.
This movie truly is distinct from the book. The book is a psychological horror masterpiece, slowly building up to the resurrections and subsequent violence that the story is remembered for. The movie, as a different medium, adapts to scare audiences outright. The gory details and frightening events in the Sematary happen early on and drive the entire movie, as they should.
The general trend for horror movies in recent years is a slowly building work that escalates toward a terrifying finale. Mostly, "Pet Sematary" sticks to the pattern, but certain events early on and midway through the flick are spectacularly frightening, especially a necessary subplot regarding Mrs. Creed's childhood. Some modern horror works, like "Us," break the mold more, but "Pet Sematary is no lesser for its design.
The reboot stars Jason Clarke and Amy Seimetz as parents Louis and Rachel Creed, John Lithgow as elderly neighbor Jud Crandall, and Jeté Laurence and Lucas Lavoie as children Ellie and Gage Creed. From this all-star cast, the best performances belong to Jason Clarke and Jeté Laurence with their characters center stage in the drama.
As Louis slowly succumbs to the power of the Pet Sematary, seeing terrifying visions and making terrible mistakes, Clarke's acting turns this hero of the story into a broken and nightmarish version of his former self. Ellie Creed's character arc is a similar downward spiral into darkness, but for different reasons. Both characters required a professional level of skill, and both cast members delivered such in earnest.
All told, "Pet Sematary" sets itself apart from its predecessor through its creative liberties, spectacular cast, and overall modern improvements in filmmaking. For once, audiences should be glad that this old beast was not left dead.