Music you may have missed
After a fantastic year of music in 2018, there are high hopes from music fans of all genres this year. Compared to the high quality as well as the quantity of music from month to month last year, this month may seem like a letdown. However, even though there was not as many high quality releases, the ones that were released prove that 2019 will be a fantastic year for music.
"Assume Form" – James Blake
On Jan. 18, R&B singer James Blake released his fourth album, "Assume Form."
Although the singer, songwriter, and producer debuted in the early 2010s, Blake has not reached the popularity he would have hoped for. Combining soft R&B and techno-pop, his music might not be the most unique songs available. However, the majority of his works are amazing, relaxing songs to jam to on a late night.
In this newest album, Blake features both rap artists as well as works with rap producers. His song "Mile High," featuring rap superstar Travis Scott, combines both the soft-sounding vocals of Blake and the autotuned Scott to create a song with a calm vibe.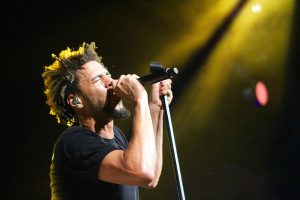 Blake also collaborates on his beats with the popular rap producer Metro Boomin on his song "Tell Them." While Blake's music is very slow, the combination of this and fast-paced rappers create an amazing album jam-packed full of songs well-worth a listen.
"Middle Child" – J. Cole
On Jan. 23, hip-hop superstar J. Cole released his newest single and his first release since his last album in April 2018. This newest song, "Middle Child," is part of his next album "The Fall Off," which currently has an unknown release date.
This artist out of North Carolina has been part of the rap world dating back to 2011 with his debut album "Cole World: The Sideline Story." Since then he has released four full length albums, started producing, and founded his brand new record company Dreamville.
In "Middle Child" J. Cole keeps with the style that made him so popular years ago in "2014 Forest Hill Drive." While in his most recent 2018 album, "KOD," Cole experimented with trippy beats and an alternative rap feel, this newest release goes back to what makes Cole himself. Rapping about pressing issues, with a basic yet entertaining beat, this song is one of the better of his since 2016.
With the impressive lyrics and overall flow of J. Cole, his talent and bid as one of the best rappers of the 2010 era seem to be true with this newest release.
"Harmony Hall" & "2021" – Vampire Weekend
On Jan. 24, Indie band Vampire weekend released two singles, "Harmony Hall" and "2021." These two singles are their first releases since 2013.
With a six-year silence, many fans of the band thought that they were done with music. In the early 2010s, the band gained a lot of traction with the songs "Diane Young" and "Unbelievers" off their 2013 album "Modern Vampires of the City." Mixing indie rock and pop, the band's signature sound is back with their latest singles.
In the single "2021," the band goes back to the sound that made them popular. Using techno-beats and synth piano along with the talented voice of Ezra Koenig, the band is able to create a relaxing, calming song.
In "Harmony Hall" the group mixes it up a bit by adding acoustic guitar at the beginning before switching over to a piano sound to create an upbeat jam.
The combined positive tone of both songs is sure to put listeners in a good mood after just one listen.
Leave a Comment