'Opposite' of what you might expect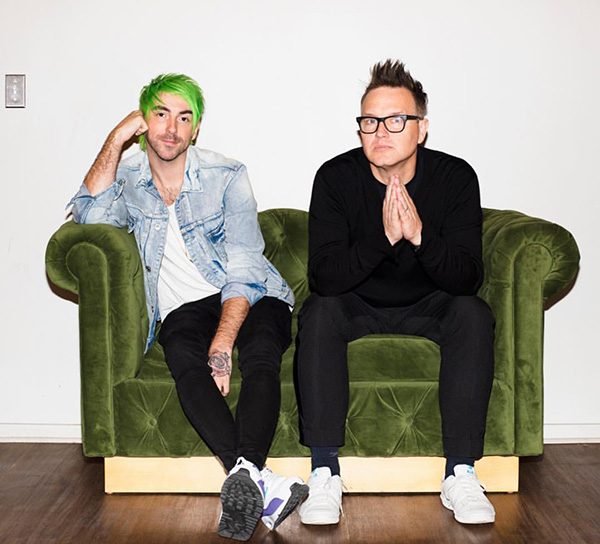 What happens when you mix the lead singer from a late nineties pop-punk band and the lead singer of a modern-day alternative rock band? You get the confusingly melodic synth pop-rock duo Simple Creatures, who released their second EP, "Everything Opposite", on Oct. 11.
The duo is composed of Mark Hoppus, of Blink-182, and Alex Gaskarth, of All Time Low, and it is just as chaotic as it sounds. Simple Creatures is almost a perfect blend of the pop-punk vocals of Blink-182 and the synthpop-rock of All Time Low. 
I am a huge fan of both Blink-182 and All Time Low. However, upon hearing about their new duo, I had some concerns mainly about how the two differentiating sounds would clash together, but I was very quickly proven wrong.
Despite my unease, I found myself really enjoying "Everything Opposite." This EP is full of songs to get you hyped up for a variety of events. Personally, my top three tracks are "Need Me," "The Wolf," and "NVM."
"Need Me" got my attention right off the bat with the memorable bassline at the beginning of the song. What I found the most interesting about this particular song is the way the lyrics are sung. It is almost in iambic pentameter with the variation of stressed and unstressed syllables in the first verse. 
This song is split evenly between Hoppus and Gaskarth's vocals in the varying verses. Something I was mildly concerned about was how the way their vocals would pair together, but in all honesty, they blend well with the music to create enchanting harmonies. 
The most interesting song on this album, but not necessarily my favorite, is "The Wolf." I find this song so intriguing because of the interesting instrumentals and editing. "The Wolf" is definitely more of a hard-techno sounding song and the interesting use of the edited guitar riffs reminds me of some songs off of Muse's most recent album, "Simulation Theory."  
"
I had some concerns mainly about how the two differentiating sounds would clash together, but I was very quickly proven wrong."
— Staff Writer Rachel Laposka
Lyrically "The Wolf" is my favorite song. Simple Creatures is usually very good when it comes to implementing darker lyrics in a more upbeat-sounding song. In this song, for example, Hoppus and Gaskarth sing about the troubles a person may face when someone is constantly tearing them down — "And you'll keep telling me I'm bad for me and worse for the world." 
My favorite song on "Everything Opposite" is "NVM," which is actually shocking. When I first heard this song, I was not the biggest fan. I thought it had too much of that "mainstream-cookie-cutter-pop" sound that every other song on the charts has. When first wanting to write this review, I was going to write about how I did not like this song due to the seemingly-overdone sound.  It was not until my third or fourth listen I actually started to enjoy the song.
The lyrics of "NVM" are about coming to terms with the fact that someone may not like you as much as you once thought. While that does sound like a terrible thing to write a song about, I actually really appreciate it. It is still a really upbeat song and overall pretty positive. 
I also enjoyed the harmonies in this song the most — they are subtle but still evident.  It is only a few lines in the chorus where both Hoppus and Gaskarth's voices blend together beautifully, but it is just enough to boost the song's overall quality immensely. 
Simple Creatures is a band that puzzles me, but that does not mean I do not enjoy the music they put out. In fact, I really enjoy their music. So much that I have gone ahead and added almost all of their songs to the bulk of my playlists. 
The duo creates music for any emotion you may feel, music to hype you up for any event, music to help you get through tough times — music for any occasion. "Everything Opposite" really surprised me and I cannot wait to see what else Simple Creatures has in store for their audience in the future.