Doja Cat adds needed element to The Weeknd's song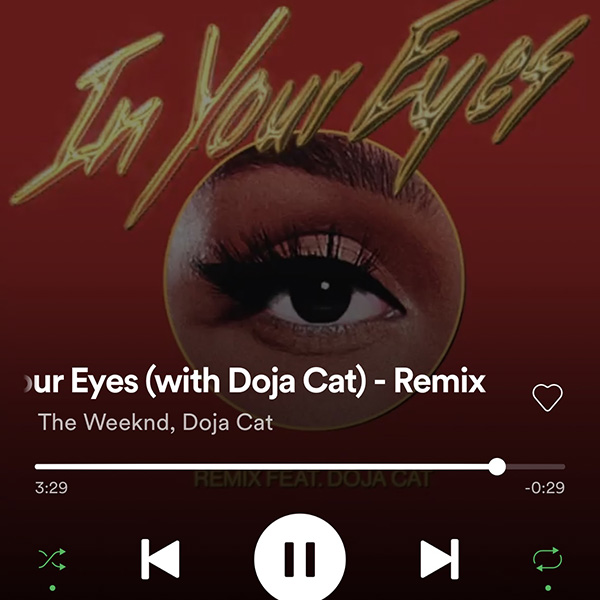 Last night, popular artist The Weeknd (Abel Tesfaye), re-released the song "In Your Eyes" from his most recent album, this time featuring Doja Cat (Amalaratna Dlamini). 
The two paired together completely changed the song for the better, especially with the different voices and how smoothly they go together. 
Tesfaye has been making music since he signed with a recording studio in 2012. He had the number one song, "I Can't Feel My Face," go viral back in 2015, and that's when he started to really take off as an artist. 
Dlamini, age 24, has been making music since she was 17. In the last year the artist has been getting a lot of recognition specifically on the social media app Tik Tok. Last Winter, her song "Say So" went viral as a dance trend with big social media stars, including Charli Damelio, Addison Easterling, and David Dobrik, dancing to it.
 "In Your Eyes," a song off the album "After Hours" released in March, was good before adding Dlamini. However, Tesfaye struggles as an artist because his voice sounds the same in all of his songs. Dlamini adds variety.
Dlamini has made rapping a huge part of her brand, so not only does she sing in this song, she adds her own rap part. The rap part is the element the song needed. She changes her voice so quickly. Once she starts rapping she sounds like a completely different person, two people actually.
This duet was not one fans imagined happening, but it works to improve the song because of how well their voices go together. 
Other songs to check out from The Weeknd are "Blinding Lights," "After Hours," and "Starboy."