An evening with excellence
Bruno Mars partners with Anderson Paak, makes amazing comeback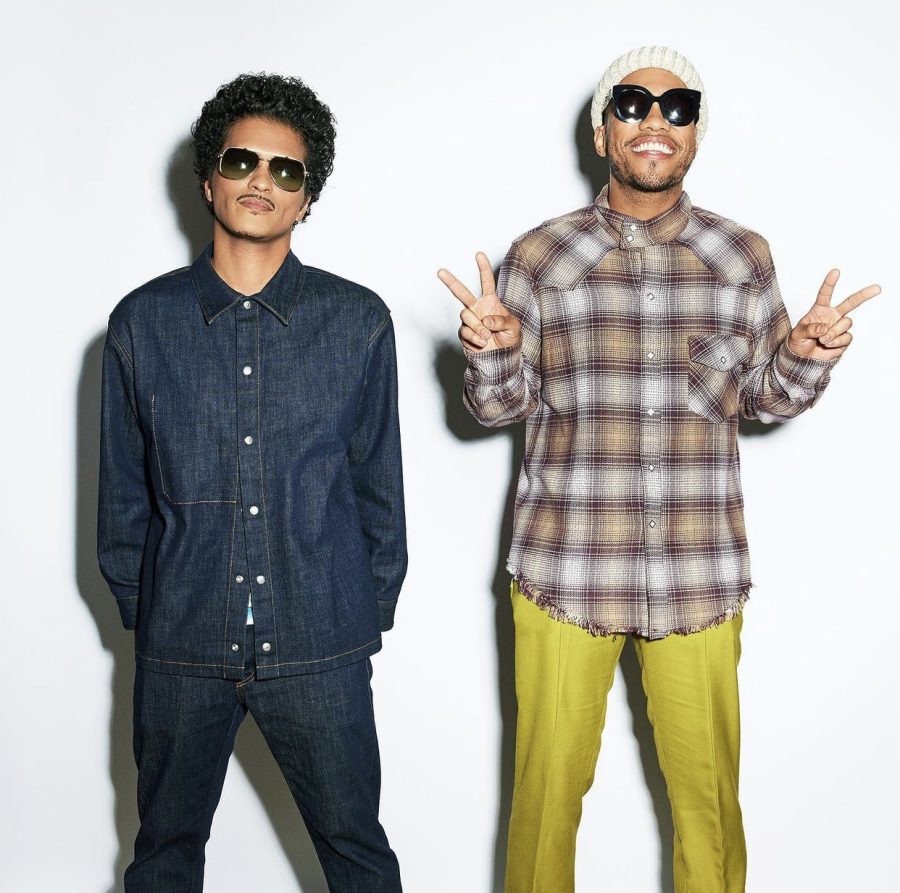 Confidence is key. You've heard that plenty of times. You have to have confidence in yourself and what you do. "An evening with Silk Sonic" is the best album to listen to to get that confidence you need for any situation.
Bruno Mars and Anderson Paak collaborated on the album. "An evening with Silk Sonic" has been in the works since early 2020. The two gave listeners a sample of what was in the works with their single "Leave the door open."
Mars started his career in 2004, writing songs for popular artists. He first debuted when he wrote his hit song "Nothin' on You" in 2010. Ever since then, Mars has been an inspiration to others.
Co-writer Paak is fairly new to his rising fame. He started his music career in 2014, when he released "Venice." Since then, he has released a few more singles but has mainly been appearing on other artists' albums. 
"An evening with Silk Sonic" does the perfect job of creating an upbeat environment for listeners, as well as hiding different easter eggs in the lyrics. They like to reference the host "Silk Sonic" in the album in clever ways. 
"777" is a funky yet upbeat song about getting those lucky 7's and getting everything you want. True to its content, "777" makes you want to get up and dance like you just won the lottery.
"
Mars's voice in the chorus sounds just like honey, blending in well with Paak's harmonies."
— Staff Writer Allyssa Daigle
The song starts off with an electric guitar melody until the beat drops. Once the beat kicks in, Mars starts singing about buying everything with all of his newfound money. 777 is definitely a song you cannot not nod your head to. It is catchy with its melody all the way to the brass features during the bridge.
Mars and Paak's voices seem to fit into the song perfectly as well. Whenever I listen to this song, I think of partying all night with my friends and feeling like I have everything I have ever wanted. I love the variety they have with slower songs and more funkier songs. It fits in really well with the theme of the album.
In the conclusion of the album, they write the song "Blast Off." I feel like this song could have multiple different explanations. Some say it is them saying 'goodbye' to the album and ending it, while the lyrics talk about a sensation so good it feels like you are taking off into space.
I love the slow, groovy tempo in the beginning. It fits well with the artists' voices. Mars's voice in the chorus sounds just like honey, blending in well with Paak's harmonies. It is the perfect ending to the album.
"Fly As Me" makes my confidence shoot through the roof. It is about Mars and Paak explaining how they deserve someone as "fly" as them. It is a more funky song, but the meaning behind it is important, saying you should keep your standards up.
I am in love with the introduction to the song. The bluesy beginning when Paak comes in with his gravelly voice makes me want to strut down the catwalk. It is mainly Paak singing in this song, and it is breathtaking how his voice blends in so well with the rhythm of the song.
You can also tell how much energy they put into this song with all of the ad libs in the background of the song of them screaming with excitement. They got very animated for not only this song, but the whole album.
This album is astounding. With the R&B soul and the way Mars and Paak harmonize alluringly together, it is hard not to fall in love with it. This album was well worth the wait.