Laura Watson
Panther alumna finds success in business she didn't picture
After initially pursuing a career in drama, former Panther Laura Watson found her place in the much different but equally artistic field of photography. Following years of taking photos on the side for fun, Watson decided to turn her pastime into her profession and start her own photography business.
"I just didn't know who I was yet," Watson said. "So, I think learning a lot more about myself and who I am really helped me out a lot, and I grew a lot since high school."
"
And I was like, 'Okay, I could get use to this feeling.' I loved posting pictures."
— Panther alumna Laura Watson
During her time at the Mill, Watson was involved in a wide array of extracurriculars. From playing softball and performing in theatre to being a Starr ambassador, peer mediator, and Executive Board member, Watson got a taste of many of the programs the Mill has to offer. Of the activities, Watson was most passionate about theatre and one day hoped that she would become an actress.
"I loved theatre, so I thought that I wanted to be an actress," Watson said. "I went to school actually with the intention of claiming a theatre major, but then I quickly realized that I hated theatre, and that it was not going to be the bit for me. I really just liked movies and I liked the production behind it and the cinematography…not acting so much."
Watson's interest in photography also began in high school, although she didn't imagine it as a possible career choice at the time. During Watson's senior year, she spent a half-day off of school with friends having a picnic and taking pictures at a park. Even though it seemed like just a normal outing, it led Watson to a lifelong interest in photography, especially after seeing the attention her photos gained online.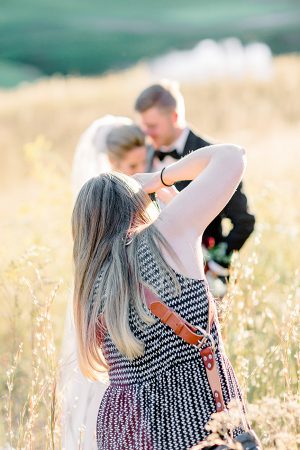 "I posted a Facebook album [of the photos we took that day] and everyone liked it and everyone was like going crazy," Watson said. "And I was like, 'Okay, I could get use to this feeling.' I loved posting pictures. It was just really, really fun and it connected with me, so I eventually decided I'd pursue it."
Watson graduated from Starr's Mill in 2008 and attended Shorter University with the intention of becoming an actress, but her perspective quickly changed after her first year at the school. Through continuing taking photos on the side, Watson realized photography was the path she actually wanted to follow. She ended up majoring in fine arts with a focus in photography and a minor in journalism.
"It just really hit me that freshman year of college that I just really loved photography and making people happy in that kind of way," Watson said. "And so that's when I kind of decided I wanted to do photography full time."
While in college, Watson served at churches and traveled on mission trips. On a mission in Bangladesh, Watson was deeply intrigued by watching the missionaries do their work and inspired to make her senior project as a journalistic documentary on them. The principles of service Watson witnessed and took part in during the missions changed the way she viewed her future career.
As her college years came to a close, Watson soon starting receiving requests from her friends to photograph their weddings. Initially, Watson picked up the jobs for money, but she soon realized there was more to photographing a wedding than she thought.
"[While photographing a wedding], I felt a really good connection between serving people similar to how my missionaries were serving others and just telling the story of the day," Watson said. "It became more than just like a job or a career. It was more of like an act of service, and I really loved that where photography was concerned. Plus, you get to be capture someone's best day of their life with their family, and it's just an awesome feeling."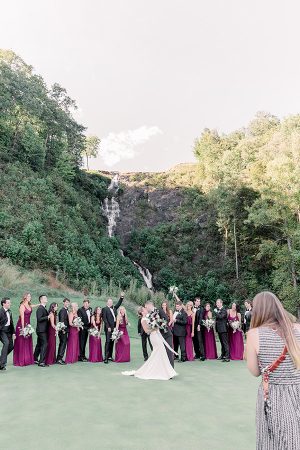 Hooked on the meaningfulness of wedding photos, Watson saw herself focusing on shooting others' special days. But it was easier said than done for Watson. Her biggest struggle was overcoming her own skepticism that she was good enough of a photographer to start her own business.
"I think that one of the biggest things that can hold people back from doing what they want is thinking that other people are going to think that they aren't good enough," Watson said. "Kind of being afraid to just step out and do it. And I definitely had that fear in the beginning of my business. I was scared to go for it and I was thinking that my friends just want to hire me because I'm cheap [and not] because I was good, but then I slowly realized that I did have this talent and that I did have this potential."
Three years after capturing her first wedding, Watson officially registered her business, Laura Anne Watson Photography, and continued to book a lot of her weddings through word of mouth. As her company continued to grow so did her marketing strategies as she zeroed in on wedding photography.
"I started marketing, just with meeting venues and networking with planners and florists and just kind of delving into the whole wedding world, because that's what I really want to do," Watson said. "And so I just kind of went for it in that way."
In 2017, Watson had expanded her business enough to be able to work for herself full-time. After gaining the courage to get her company off the ground and continued efforts to better it, Watson has succeeded in finding her passion and pursuing it everyday.
"
You are going to learn way more doing something than you will in a classroom. Just start now…"
— class of 2008 graduate Laura Watson
"My biggest challenge with starting my own business was getting over the hurdle of believing that I could do it," Watson said. "It's just back to that kind of fear mentality. It's hard to start something from nothing and I think we are our own worst enemies when it comes to taking what we want and going after what we want. But once I got over that, I had more confidence and I could go for it."
When asked about advice she'd give Starr's Mill students, Watson emphasized not being bashful, and not waiting for an opportunity but actively seeking it.
"Start now. That would be my biggest advice," Watson said. "Don't wait until you think you have a degree or think you have the right education. You are going to learn way more doing something than you will in a classroom. Just start now figuring it out as you go. Don't be afraid to fail, because you're going to. You just have to learn from those failures and more forward."
From Watson, students can take away that like many other graduates of the Mill, there isn't a need for a set-in-stone plan after graduation, just a desire to advance in a passion that they love. With this desire, as has been proven by many Panthers through the years, the possibilities are endless. For more information on Watson's photography business, students can visit her website or follow her on social media @lauraannewatson.
Leave a Comment