Stephanie Johnson
Former Panther tunes into career with local radio station
Growing up in Georgia, Panther alumna Stephanie Johnson was a huge racing fan. Her initial dreams of becoming a driver shifted to studying law as she grew up. Little did she know that eventually she would find herself involved in the sport again, but this time as more than a fan in a field she never would have imagined.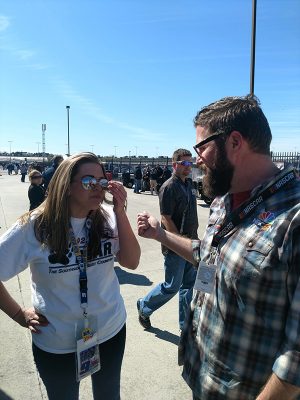 "I remember my first race I ever went to I was six years old and it was at Atlanta Motor Speedway, and I remember just that adrenaline rush that I got of like 'I want to do that,'" Johnson said. "And I used to, when I was young, tell my dad all the time, 'I'm going to be the first female NASCAR driver.' That's what I wanted to do and every Saturday and Sunday we would watch the race or we would go to the track in Senoia or down in Cordele. I just loved it."
As she got older and began her time here at the Mill, Johnson set a more realistic goal of attending law school. Her interests expanded as she developed a love for social studies.
"I was kind of a history buff," Johnson said. "I really liked history, and I wanted to go to college to be a lawyer."
After graduating from the Mill in 2006, Johnson attended Gordon University before transferring to Southern Crescent Technical College and earning an associate's degree in criminal justice. But Johnson's dreams of becoming a lawyer didn't quite pan out.
"I got married at a young age and had two children, so it was kind of a safety thing I guess," Johnson said. "You know life happens, and I had two kids back to back."
Following college, Johnson picked up jobs working in retail to support her family rather than pursuing an education and career in law. Soon becoming a single mother, it looked as if Johnson's high career hopes would be sacrificed. That was until she was approached by someone in a very unexpected career path.
"I was actually working at a small little boutique in Senoia. I voiced the commercial spot for that store, and the person that worked for the radio station had asked if I had ever been in radio," Johnson said. "About four or five months after that I ended up having to leave the boutique for personal reasons, because I have a son with autism and he goes to therapy three times a week, so I had to get something a little more flexible. Well, then, the gentlemen that worked at the radio station found out about it and called me that day and was like, 'Can you come into the radio station on Tuesday? I've got you a job.'"
"
I'm actually behind the scenes of something that my dad and I used to listen to all the time. Once it finally sunk in, it was very exciting and almost a dream come true that I didn't know I had that dream.
— Starr's Mill alumna Stephanie Johnson
The twist in fate turned out to be an unanticipated blessing for Johnson. After meeting with 92.5 The Bear, Johnson became their assistant office manager and now is often featured on the air mainly recording segments recapping race action.
"I got on air and people kind of liked me a lot and they were like, 'It's great to hear a young female voice on the air,' because this station's got a lot of older men," Johnson said. "And then I became 'Speedway Stephanie.' It was crazy."
With the support of the listeners behind her, Johnson has found her place at the station even after initial doubts if she would fit in on air. Working both behind the mic and on the production side, Johnson gets a taste of everything that's going on in the station.
"On an average day, I manage the office, voice commercial spots, and if I come in early in the morning I'll get on the morning show with Robbie and Cal," Johnson said. "Basically, just doing some production things, and when it's race weekend, or if there's a race coming up, they'll ask me to do little snip-bits about what happened in NASCAR, and now that it's full race season, that's kind of what I do because that's something I grew up doing."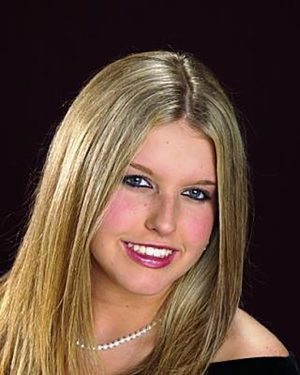 It turns out NASCAR isn't the only part of Johnson's childhood that her job at The Bear relates back to either. Johnson was actually raised listening to the station with her dad, likely even on the way to track. The implication of being able to work somewhere that meant so much to her and her dad when she was younger has really meant a lot to Johnson.
"The cool thing is the radio station that I work for now was my dad's favorite radio station," Johnson said. "I grew up listening to this radio station. My dad passed away seven years ago. And I was like, wow, I'm actually behind the scenes of something that my dad and I used to listen to all the time. Once it finally sunk in, it was very exciting and almost a dream come true that I didn't know I had that dream."
Although Johnson's life had definitely taken some unpredictable turns since high school, she's been able to fulfill aspirations through her career with The Bear that she never imagined. She's truly found her place where she can talk about what she loves while supporting those she loves.
"My biggest takeaway is that you may have a dream in high school, but life happens. I got married. I had two kids, and then I became a single mother. I'm a domestic abuse survivor. I have full custody of my kids. So, it's kind of that you put your kids first and you don't want to miss out on those things," Johnson said. "So, I was like, I have to put my career on the back burner for them. Then I got this job here, and it's like a dream come true. They love it. My six-year-old daughter has done commercials here and they think it's so cool when they hear mommy on the radio. They'll be like 'That's mommy! That's mommy!' and that makes everything worthwhile."
"
Even if things don't go as planned, it doesn't mean they can't go right.
— Features Editor Caylee Cicero
Johnson's advice to current students at the Mill can be simplified to never give up, which is something Johnson certainly didn't do even with the obstacles life threw in her way.
"Just don't give up. And you're going to get told 'no,'" Johnson said. "You're going to have people that are like, 'I don't think you're a fit,' but in all actuality, you may have ten people that adore you, and those ten people will push you to do better. And you just go for it."
Johnson, like many other alumni of the Mill, sets a stellar example of how through perseverance you can achieve goals you never even imagined. Even if things don't go as planned, it doesn't mean they can't go right.
Leave a Comment