From family past time to prime time
Panther grad using roots to expand career in broadcasting
After growing up surrounded by sports, Starr's Mill alumna Brooke Fletcher is taking advantage of her roots to start her career in sports broadcasting. 
Brooke's father Scott was a professional baseball player. Brooke followed his footsteps, although her sport of choice was far from her father's. Fletcher was a varsity cheerleader for all four years of high school.
"
I've always had my eye on where I want to go, and if I believe it, it will happen.
— Class of 2010 graduate Brooke Fletcher
"When you work hard you will be rewarded, so I've always kept that mentality whether it be in sports or with my career," Fletcher said. "I've always had my eye on where I want to go, and if I believe it, it will happen."
In addition to cheer, Fletcher competed in pageants during her teen years. She was named Miss Teen Georgia in 2009 and went on to compete in the Miss Teen USA Pageant. Fletcher ended up placing 1st Runner-Up in the national competition. A major takeaway from the event was Fletcher's growing attraction to the field of communications.
"The people that I met and the connections I made [at the Miss Teen USA Pageant] kind of sparked my interest in broadcasting," Fletcher said.
After the competition, Fletcher decided to enroll in the broadcast class at Starr's Mill for her senior year. As part of the class, Fletcher participated in the morning announcements allowing her to experience what it's like to be on-air as a high-school student.
Fletcher graduated from the Mill in 2010 looking to major in communications. She attended Auburn, which didn't offer any broadcast-related major at the time, so Fletcher ended up majoring in business and minoring in Spanish. To compensate from the lack of enrolling in broadcast-related classes, Fletcher did lots of work with the on-campus TV station there.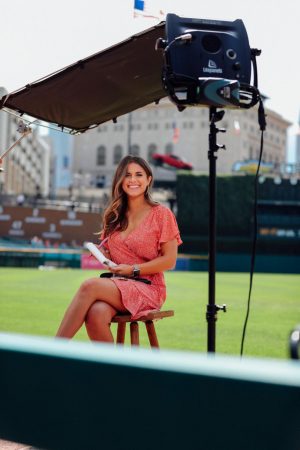 Once Fletcher received her degree from Auburn, she landed a job working for ESPNU at SEC Network in Charlotte, North Carolina. Her decision to go into sports broadcasting, in particular, relied heavily on her exposure to sports as a kid. It also gave her an advantage going into the field since she had already had a behind-the-scenes perspective of what an athlete's life is like.
"Growing up in a baseball family we grew up watching sports, watching baseball, being around it all the time, going to the baseball field pretty much every day, so I know a lot about sports from a fan's perspective but also from a player's perspective," Fletcher said. "It's a lifestyle. That was a huge role in my career."
At ESPNU Fletcher worked as an associate director. Her role included doing on-camera work for digital segments as well as appearing on College Football Daily. 
"When I applied for my job [at ESPNU], I told my future boss I wanted to be on camera, that was my main goal, but I have no problem learning behind the scenes and working my way up," Fletcher said. "My dad's always instilled that. You got to work hard and earn your spot."
Fletcher worked at ESPNU at SEC Network for three years before deciding she wanted a change. Fletcher then moved to New York where she did both commercial and freelance work for a year before committing to her current career at FOX Sports Detroit. 
"I started off [at FOX Sports Detroit] as a digital host hosting a digital segment called 'The 313' and then I kind of built off of that," Fletcher said. "I'm a host and reporter now, so I sideline games. I do Red Wings games, Tigers games, and I'm going to be doing Pistons games in the fall. And then I also host a show called 'Anything Goes'. It's a digital show where I meet with players off the field, off the court, off the ice, to try to get to know them a little better. So, I'm hosting and reporting things. I love it."
One of the highlights of Fletcher's career in Detroit is the opportunity of growth it has provided her. With the support of her station behind her, Fletcher has been able to branch out and try out aspects of her career she hadn't experimented with in the past.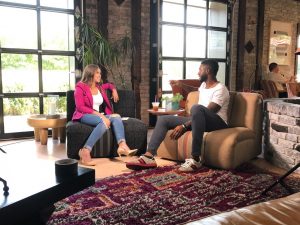 "It's great to be at a job where people want to achieve and they are rooting for you," Fletcher said. "I'm kind of dipping into different things, so it's been a great experience."
In addition to the incredible career opportunity FOX Sports Detroit has given Fletcher, they have also provided her a way to become closer to her family. Fletcher's sister, fellow Starr's Mill graduate Brittany Beckham, now lives in Detroit too as her husband, MLB player Gordon Beckham, plays for the Tigers. The sisters' father, Scott, also lives in the area and works for the Tigers.
"It's crazy how God works cause never would I had thought I'd end up in Detroit but my dad works for the Tigers organization as the hitting coordinator and then my brother-in-law gets picked up by the Tigers," Fletcher said. "So it worked out great. My sister and brother-in-law live five minutes from me. And my sister and I haven't lived in the same town since she graduated from Starr's Mill and left for college."
Fletcher has enjoyed being able to reconnect with Brittany over the past summer, but her journey to get to Detroit hasn't come without its hardships. The most challenging being facing gender inequality and being willing to move frequently.
"This industry can be very tough, especially as a woman," Fletcher said. "You're in a very male-dominated industry and you're moving from a matter of three different cities and five years so not even three years I've lived in three different cities. So it gets tough. It's definitely a grind but if you want it bad enough and you work hard you can get there you just got to keep working hard and it will pay off."
"
[E]mbrace the journey, embrace the ups and downs, because you're gonna learn from it, you're gonna grow from it, and when you do reach the top, you're going to appreciate it so much more…
— Starr's Mill alumna Brooke Fletcher
While discussing the difficulties of her career, Fletcher went on to disprove stereotypes of her hectic lifestyle. One is the amount of work it takes to achieve screen-time and the other being the luxurious reputation of working in sports or television in general.  
"It's funny because I'm not the only one but a lot of girls when you graduate from high school or college and you want to go into broadcasting you think you can get on camera right away," Fletcher said. "It's not as glamorous of a lifestyle as people would think."
Fletcher went on to elaborate on having to work holidays and the hard work and dedication it required to reach her current position. One of Fletcher's biggest goals through her career has been always striving for self-improvement. 
"I think I'm always wanting to figure out what's the next thing I can do like how can I get better at my job," Fletcher said. "I don't want to be complacent. Whether that be here at FOX Sports Detroit or it be somewhere else, but I'm happy I'm taking it one day at a time. I just want to keep growing."
Fletcher advises current students of the Mill planning toward their future whether it be in broadcasting or not to accept the challenges of getting to their goals. Fletcher preaches the importance of taking advantage of both the highs and lows in the path to ultimate success.
"I just think that no matter what you decide to do I'd almost embrace the struggle, because I feel like it will mean so much more once you've reached the top," Fletcher said. "My advice is to just embrace the journey, embrace the ups and downs, because you're gonna learn from it, you're gonna grow from it, and when you do reach the top, you're going to appreciate it so much more so just continue to work hard. Things that seem important right now they're not when you look back at it. Just stay focused, and if you work hard, it will pay off." 
Fletcher's incredible yet equally difficult journey has shown how much family can play a role in one's career. Fletcher was seemingly destined to become involved in the sports world and along the way cross paths with her family, the people who introduced her to it.
Leave a Comment