Love is on the big screen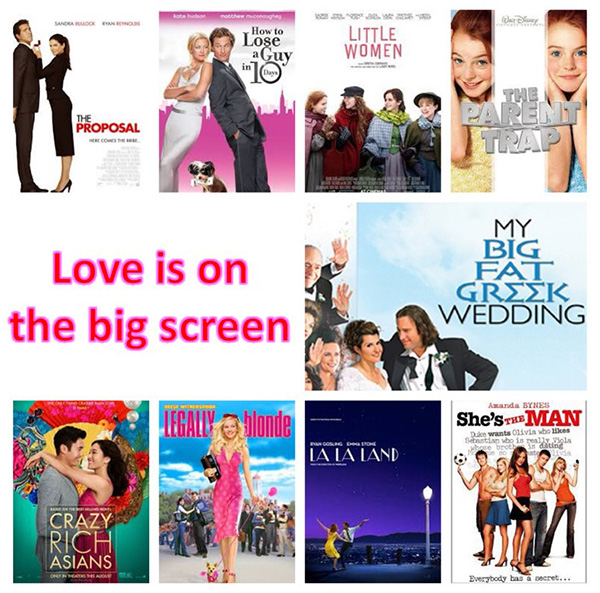 As Valentine's Day approaches, prices for cheap boxed chocolates continue to rise along with most teenage girls' dreams of true love. But life isn't a fairytale like it's portrayed in movies. While some are shopping for cards and stuffed animals for their loved ones, others dread the day completely. So whether you're single, taken, or heartbroken, I've made a list of movies that everyone can enjoy no matter their relationship status.
SINGLE
If you're like me, you'll be spending this night with friends, not a significant other. I came up with a small list of romantic movies that all those single ladies out there might enjoy, whether you'll be with friends or by yourself.
First up we have "The Proposal, starring Sandra Bullock and Ryan Reynolds. This is one of the few movies that has the ability to make me laugh out loud one minute and cry the next. Margaret Tate (Sandra Bullock), a successful and entitled editor, is at risk of being deported back to Canada. To save her job, she claims that she is engaged to her assistant, Andrew Paxton (Ryan Reynolds). To convince a doubtful immigration officer that they truly are engaged and in love, they travel to Alaska for Margaret to meet Andrew's family. This trip contains a handful of ups and downs. 
Next, "How to Lose a Guy in 10 Days," starring Kate Hudson and Matthew McConaughey. I am very proud to say that this hilarious rom-com is one of my favorites. Andie Anderson (Kate Hudon), an advice columnist bored with the constant writing of shallow topics, decides to write an article about possible slip-ups girls can make while in a relationship. Her editor suggests she finds a boy to test this article. However, Benjamin Barry (Matthew McConaughey) makes a bet with his coworkers that he can make any girl fall in love with him. These two meet and while Andie decides to test her article on him, Ben tries to make her fall in love. Their plans rebound. 
Lastly, we have "Little Women." This cinematic masterpiece is inspired by the novel written by Louisa May Alcott. Four sisters, Meg (Emma Watson), Jo (Saoirse Ronan), Beth (Eliza Scanlen), and Amy (Florence Pugh), experience various adventures together while living in New England during the Civil War. The movie specifically highlights Jo, a headstrong and adventurous writer, and her journey through young love and finding individuality. It's simply a feel-good film, guaranteed to make you smile and maybe shed a tear or two. 
"
Perhaps you're lucky enough to have plans with your special someone on Valentine's Day."
— Staff Writer Charlie Goins
TAKEN 
Perhaps you're lucky enough to have plans with your special someone on Valentine's Day. In that case, here's a list that the two of you can enjoy together.
First, we have "My Big Fat Greek Wedding," starring Nia Vardalos and John Corbett. Fotoula "Toula" Portokalos (Nia Vardalos), a waitress at the family restaurant, is pressured by her heavily Greek parents to settle down and start a family with a well-off Greek man. Ian Miller (John Corbett), a customer at the restaurant, catches Toula's eye. She then has to figure out how to balance the struggle of pleasing her parents, and love. The witty humor and hilarious storyline is perfect for both people in the relationship to enjoy.
Next, "The Parent Trap," starring Lindsay Lohan. A classic feel-good film with a happy ending. Annie James and Hallie Parker (Lindsay Lohan), are identical twins unexpectedly reunited at a summer camp. The two of them sporadically decide they should switch places in a plot to get their parents back together. One thing I love about this movie is that there are ultimately two stories intertwined into one, so there is hardly a boring moment in the movie. Not to mention that the soundtrack is absolutely perfect.
Lastly, "Crazy Rich Asians," starring Constance Wu and Henry Golding. This movie is a personal favorite of mine not only due to the wardrobe and music, but also the humor and unexpected ending. Rachel Chu (Constance Wu) is an Asian American economics teacher in a serious relationship with Nick Young (Henry Golding). Nick invites Rachel to travel with him to Singapore to attend a friend's wedding, where he will be the best man. This also will be an opportunity for her to finally meet his family. The trip takes an unexpected turn when Rachel discovers that Nick's family is outrageously wealthy, and his mother doesn't believe she is fit to be with her son.
HEARTBROKEN
"
With all the heart decorations and table-for-two dinner reservations, it's hard not to think about the one that got away."
— Staff Writer Charlie Goins
If we're being completely honest, Valentine's Day sucks for those people who are heartbroken. With all the heart decorations and table-for-two dinner reservations, it's hard not to think about the one that got away. Here's a small list of movies that hopefully will cheer you up and help you remember that everything happens for a reason. 
"Legally Blonde," stars Reece Witherspoon as Elle Woods, a blonde who is obsessed with pink and president of her college sorority. She awaits the proposal from her boyfriend (Matthew Davis), but when she expects him to pop the question, he breaks up with her due to the fact that she's not smart enough. In an effort to win his heart back and prove him wrong, she applies to Harvard University. This movie is a perfect example of independence, while showing that you shouldn't limit your ability because of another person. Even though you might feel heartbroken, it might be a blessing in disguise.
Next, "La La Land" starring Emma Stone and Ryan Gosling. Mia Dolan (Emma Stone), a struggling actress, has several unintended run-ins with Sebastian Wilder (Ryan Gosling), a jazz musician. The two fall in love as they help each other achieve their dreams and then go their separate ways. They are united several years later, both successful in their dream jobs. Though this film is fairly depressing, it portrays the message that love will have its chance, but it can hold you back from your potential. Mia and Sebastian's relationship was amazing while it lasted, but in the long run they both were pleased with their decision to part.
Lastly, "She's the Man," starring Amanda Bynes. This will absolutely make you smile and put you in a good mood. Viola Hastings (Amanda Bynes), is a soccer player at her high school, but her team gets cut. She then decides to take her twin brother's place at Cornwall's rival school, Illyria, when he moves away to start a band. With the help of a stylist, she is transformed into her brother. She joins the soccer team at Illyria in hopes of beating Cornwall, and meets Duke Orsino (Channing Tattum). The two end up sharing a dorm, and Viola begins to fall for him. This movie is another example of female empowerment, because it portrays that a girl can do anything if she puts her mind to it. You do not need a boyfriend to be successful. 
Whether you are spending this day with friends, a significant other, or a big bowl of ice cream, there's nothing better than a classic romantic movie. And hey, maybe one of my favorites will become one of yours as well. Happy Valentine's Day!