Paved by the Bell
Christopher Bell dominant in Rinnai 250 at Atlanta Motor Speedway
Christopher Bell earned his first victory of the season and ninth overall in his young NASCAR Xfinity Series career in dominant fashion as he took the checkered flag in the Rinnai 250 at Atlanta Motor Speedway.
"
I wanted to be dominant. I wanted to be really good, and we were really good."
— winner of the Rinnai 250 Christopher Bell
Bell, driver of the No. 20 Rheem Toyota for Joe Gibbs Racing, was at the front of the pack for 142 of the 163 laps. Even after a poor late-race pit stop dropped him to third, he quickly regained the lead in less than a handful of laps.
"Being in the second row is a pretty big advantage," Bell said. "I wanted to be dominant. I wanted to be really good, and we were really good."
Just behind Bell was Cole Custer in the No. 00 Jacob Companies Ford for Stewart-Haas Racing. While he only led for two laps, Custer was closely behind Bell for most of the race.
"Bell kind of took my line the last lap, but it's a great start to the year for our first race," Custer said.
In third was Justin Allgaier, pilot of the No. 7 Cessna Chevy for JR Motorsports, who never led during the race, but made a push for third after a late restart. Brandon Jones, driving the No. 19 Menards/Jeld-Wen Toyota for Joe Gibbs Racing, came in fourth place, and Tyler Reddick rounded out the top-five in the No. 2 Pinnacle Financial Partners Chevy for Richard Childress Racing.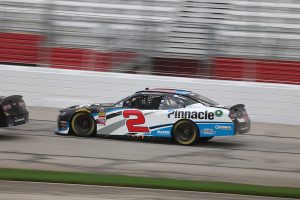 "We did awesome on pit road. We did everything right," Allgaier said. "We made one adjustment that we thought we needed to make and unfortunately it just didn't do what we wanted it to do to the car."
From laps 1-42, Bell stayed comfortably in the lead until he made a pit stop at the end of stage one. Trailing him was Custer, Allgaier, Reddick, and Jones.
As stage two began, Custer was the first driver to take the lead away from Bell, but he only led lap 43. Bell then passed him and led for the rest of the stage, from laps 44-82.
"Our teammate Bell, he's always quick here. I think he had the car to beat all day," Jones said. "I had a shot to win the race, and that's all I can really ask for from down pit road."
Once again, Custer led for a lap during lap 83, then he was passed by Reddick who led for the next eight laps. Bell fell behind after a poor pit stop due to trouble on the right rear, but by lap 92 he had regained the lead.
When Bell took a pit spot on lap 123, Jones led for one lap before Noah Gragson in the No. 9 Switch Chevy for JR Motorsports gained the lead for the next nine. Gragson was working pit strategy that failed to play out in his favor. He would go on to finish ninth overall.
Bell took over the first spot once more, and he led for the following 24 laps.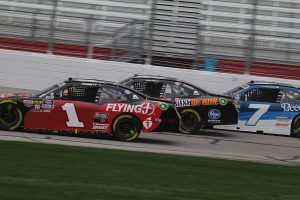 On lap 157, John Hunter Nemechek, driver of the No. 23 Fire Alarm Services INC Chevy for GMS Racing, spun in Turn 2 bringing out the caution and bunching up the field. Nemechek finished the race in 20th place.
It looked like Bell and Reddick would duel to the finish, but when the race resumed, Bell took off and Reddick dropped into fifth. Six laps later, the No. 20 team its first win of 2019.
"I don't know if we could have passed him or beat him," Reddick said. "The car was fading much faster for me than for him."
Michael Annett, in the No. 1 Pilot Flying J/American Heart Association Chevy for JR Motorsports, finished 12th just one week after placing first in Daytona. Rookie Justin Haley, piloting the No. 11 LeafFilter Gutter Protection Chevy for Kaulig Racing, looked fast in practice all weekend, but he finished eighth in the race.
Peachtree City native Garrett Smithley drove his No. 0 teamjdmotorsports.com Chevy for JD Motorsports to a 17th place finish. He will start his first Monster Energy NASCAR Cup Series race of the 2019 season tomorrow in the No. 77 Overkill Motorsports Chevrolet for Spire Motorsports.
As NASCAR heads west, Bell leads the NXS standings with 99 points, Following him is Jones at 95, trailed by Allgaier with 81, Reddick at 80, and Custer at 76.
The pressure is now off the 20 team as racing heads west next week. Xfinity Series drivers will hit Las Vegas Motor Speedway in the Boyd Gaming 200 at 4 p.m. on March 2.