Panthers dominate Forest Park, stay undefeated
Homecoming festivities didn't derail sophomore running back Rico Frye and the Panthers from the game against Forest Park. The game was nearly over before halftime, with Starr's Mill scoring the first 28 points on the way to a 49-18 victory to improve to 4-0 on the season.
"Before the game, I had to remind myself that it doesn't have to be so serious all the time," Frye said, who ran for 198 yards and two touchdowns on 11 carries. "We executed our plays well and worked hard in practice leading up to the game and it was fun. This is why I love the game."
It didn't take long for the game to go in the Panthers' favor, as the team recovered a Forest Park fumble on the opening kickoff, but senior kicker Whitaker Chu missed his first field goal of the season to end the drive, hitting the left post. However, the offense scored touchdowns on six of its next seven offensive possessions in the half.
"
We executed our plays well and worked hard in practice leading up to the game and it was fun."
— Rico Frye
A quick three-and-out gave the Panthers offense the ball back, and Frye scored a 14-yard touchdown run three plays later to start the rout. Senior running back Dion Munerlyn took a handoff to the outside for a 5-yard touchdown with 1:52 left in the first quarter to put the Panthers up 14-0.
"I thought we started a little slow, but our offensive line is hitting things a lot more clean," Panther football coach Chad Phillips said. "They're hitting their blocks well, and Rico is running great tracks, and when those two combine, it's hard to stop."
Sophomore quarterback Joey DeLuca scored his first rushing touchdown of the year, breaking several tackles on his season-long 22-yard rush to push the lead to 21. On the next possession, Frye broke away for a 47-yard touchdown run, his seventh touchdown this season.
"Everything was working for us," DeLuca said. "It's more of the matter of us making a mistake or not. Our offense was moving well when we made the right reads."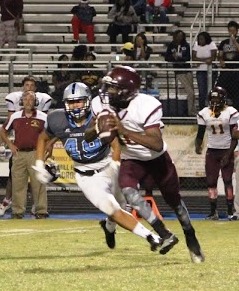 With 5:03 left in the half, Forest Park got on the board with a 58-yard pass to wide receiver James Ragland from quarterback Jamar Mitchum, but failed a 2-point conversion, keeping the Panthers up 28-6.
The Panthers scored twice within the last two minutes of the half, an 8-yard run by senior running back Connor Morgan and a 1-yard rush by sophomore running back Mitch Prowant put Forest Park down 42-6 at halftime.
"We've got to keep getting better," Phillips said. "Rico and Joey are getting a lot more confident, the lineman are starting to really understand the blocking schemes, and we're really starting to show progress, but we still need to work hard and continue to improve in each practice and game we play."
Forest Park cut into the large deficit on another touchdown reception by Ragland coming out of halftime, but again could not convert the 2-point rushing attempt.
The Panthers almost responded with another touchdown, but the Forest Park defense stopped sophomore running back Nic Brown short on fourth-and-goal from the 3-yard line.
Conservatively playing on offense, Forest Park took control of the clock in the second half, holding the ball on offense for nearly 16 minutes.
The Panthers also had a drive last more than four minutes, Prowant scoring his second touchdown of the game on a 2-yard run with 4:40 left in the game to go up 49-12.
Ragland caught his third touchdown pass of the game with 19 seconds left, but a third failed 2-point conversion gave the Panthers a convincing 49-18 win before its bye week.
"We're going to come out next week and get everybody's body right and focus on Drew," Frye said. "We played hard and didn't take [Forest Park] lightly, but we had fun and we're ready for a week off."
The Panther defense held Forest Park to 18 rushing yards on 30 carries and is only giving opposing offenses 1.7 yards per carry and 61.5 rushing yards per game.
"Our rushing defense is playing really good," Phillips said. "We really need to improve our pass defense. Having one of our seniors in Satchel Goodrich out has obviously created a little issue with that because he's our best defensive back, so hopefully he'll be ready by Drew."
Goodrich has missed the past two games dealing with a foot injury suffered last week. He will be a gametime decision for the game at Drew on Oct. 2.
"The plan is for me to be ready by the game," Goodrich said. "It may be a small hairline fracture, but most likely just a really bad sprain. I get my cast off [today] and then we'll see what happens from there."
After coming back from the bye week, the Panthers will play at Drew for the first game away from home since week one at Whitewater. Following Drew is the annual "battle of the bubble" at home against McIntosh.