Panthers improve in second half of season, fall in first round of state
The varsity softball team reached its goal of making it to the state tournament this season. The last time the girls reached this achievement was back in 2007.
"[The team was] competitive," senior starting pitcher Alysen Febrey said. "We weren't necessarily the team that you think you would go out there and lose to, but we shocked a lot of people with how far we went."
The Panthers ended their season with a 16-13 record.  "It doesn't seem all that, great but it was still a good season," head coach Mark Williamson said.
The Panthers' season started off in a slump, going 6-9 to begin the season. However, they  progressively improved as the season went on and went 9-2 between Sept. 3 and Oct. 9, including four region tournament wins.
"We really improved on working as a team and teamwork, because we really got to know each other," senior second baseman Kristen Simpson said.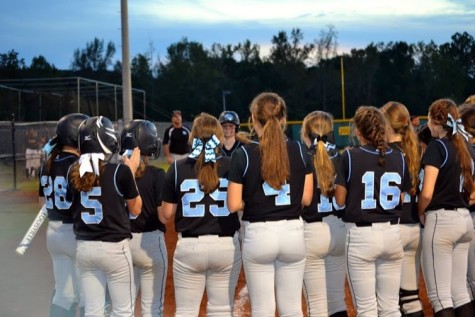 As for memorable games this season, Northgate has become a trending topic among the team.
Northgate has not only become one of Starr's Mill's major rivals in football, but the varsity softball teams have recently sparked up a rivalry as well.
"[The most memorable game was] not our first game against Northgate, but the second one that was in the region tournament," Febrey said. "That's what made us go to the next round, the state [tournament], and we always like beating Northgate."
The varsity softball team beat Northgate two times this season. On Sept.17, the Panthers defeated Northgate with a 6-3 win. On Oct. 9, the Panthers shutout the Vikings 6-0, sending Starr's Mill to the state tournament.
However, the Panthers lost in game three in the first round of state playoffs to the Northside Patriots 3-2 despite their upward turn.
"We were leading most of the game," Williamson said. "We may have tightened up a little bit at the end. We had a few errors at the end that ended up costing us."
The Panthers had several freshmen show growth according to Williamson, including Kate Ashmore, Alyssa Angelo, Laura Sellers and Lea Duben, who were in a majority of the starting lineups this season.
"We had several freshmen that stepped up [this season]," Williamson said. "That's just a good group, they work hard."
As for the upcoming freshmen, they have big shoes to fill with the seniors no longer on the team. "[If I could tell them one thing] it would be to have a good attitude and work hard," senior third baseman Morgan Phillips said.
The juniors also have a big priority to accomplish next season: becoming the new leaders of the team. "It's exciting with having the younger ones look up to me and getting to spend time with them," said junior outfielder Shelby Daniel, already looking forward to next season.