Boys varsity basketball team looks to improve last season with fresh faces
On Nov. 20, the boys varsity basketball team will play its first official game of this season at Northgate. Until then, head coach Brandon Hutchins has to manage a much younger team than last season.
"[The underclassmen do not have] a lot of experience as far as playing varsity, but we're excited about what these guys can do," Hutchins said. "I think they've got a chance to compete in the region and hopefully make it to the state tournament."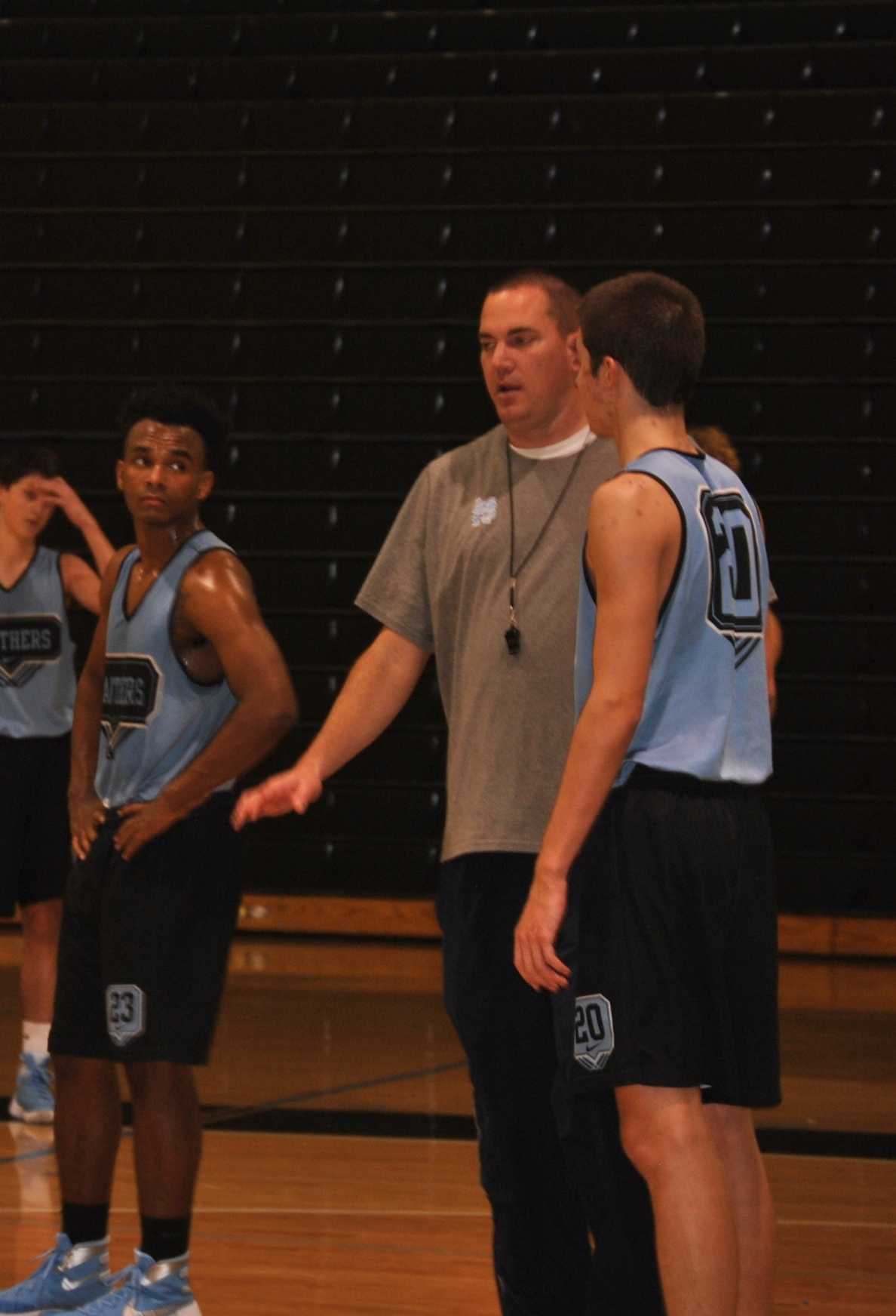 Compared to last year, the Panthers only have three seniors on varsity rather than six. The rest of the team is composed of juniors and sophomores. Despite the youth, Hutchins is not only looking forward to this year's starting lineup, he is also looking forward to improving the squad from last year.
"One [of the improvements] is just winning the close games, free throw shooting, taking care of the basketball and playing good team defense," Hutchins said.
The Panthers are looking to accomplish many goals this season in order to make up for last season's 11-15 record. 
"One of our goals is to win some of the close games we lost last year," Hutchins said. "We could have easily won 16 or 17 games last year. We lost four or five points or less, so one of our goals is to win the close ones and try to make it back to the state tournament."
Hutchins thinks good leadership on the team can help them increase their number of wins. Looking at the roster, Hutchins has many candidates regarding leaders this season.
"I think the three [seniors] we have are very good leaders," Hutchins said. "Of course Satchel [Goodrich], Colin [Maguire], and Jack [Van Nimwegen] have all been in our basketball program for four years, and then I think we are going to look at [junior] Stephen Peterson. He should be another spark for us and hopefully leader for us on the floor. We are just going to rely on everybody to kind of be self-motivating and lead each other."
Two of the three sophomores have jumped from last year's freshmen team to this season's varsity team. James Harris and Chase Sands will have to attest to the differences of the varsity team such as the speed of the game and the size of their opponents.
And one of the most important games for these new varsity players will definitely be McIntosh.
"I think it's hyped more by the students than it is the actual coaches and players, but that's a good test for us early. Of course, [McIntosh] is going to be really good," Hutchins said. "I think it is definitely our biggest rival."
Not only is McIntosh the team's biggest rival, but the rivalry, commonly known as the Battle of the Bubble, always seem to draw attention.
"It'd be hard-pressed to find another game in the state of Georgia– basketball game– that draws that much attention," Hutchins said. "You look at the crowd last year to turn people away at the door. I don't know how many basketball games in the state you can find that had to do that."
Starr's Mill was defeated both times in the Battle of the Bubble last year. On Dec. 6 the Chiefs won 69-55 on their home court and won 62-50 on Jan 23. at Starr's Mill.
"It's going to be a learning curve, and I think some games we'll look good and some games you'll think, 'Gosh they look really bad,' but it's just going to happen when you have a young team," Hutchins said.