Boys golf team goes beyond scheduled events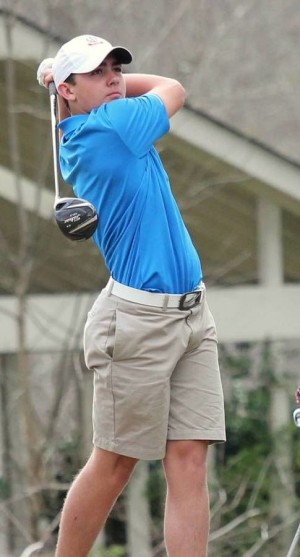 Most people see golf as that sport that comes around in the spring and summer. Tournaments like the Masters and the PGA Championship get fans excited. However, it's only the true fan that understands that golf goes year round. There is never an offseason for golf. The Starr's Mill golf team understands that concept and fully embraces it.
Senior Alex Rogers knows this to be true, as he spends most of his summer playing in tournaments, in hopes to impress a college golf scout and sign with a school to play golf. On Feb. 2, Rogers made that dream a reality, and signed with Huntingdon College in Montgomery, Alabama.
"I'm pretty excited about signing," Rogers said. "I'm looking forward to being in Montgomery next year and continuing to play golf."
Rogers has been playing golf at Starr's Mill for two years now and has enjoyed the bond him and his teammates have, saying that spending time in the hotels at tournaments was something he would always remember. As for the summer tournaments, Rogers is a firm believer that playing maybe a little more important than practicing.
"It's one thing to practice, but to play in a tournament is a lot different," Rogers said. "Playing in more tournaments gives you more experience and allows you to play a lot better."
Another player who signed to play college golf is senior Josh Grenville-Wood. He signed with the University of South Carolina-Beaufort on Feb. 2 as well. Grenville-Wood is a two-year player for the Panthers and shot a tournament low 71 at last years state tournament.
"Last year was a good year," Grenville-Wood said. "We have a lot to improve on, which isn't always a bad thing, but we know we can do better than last year."
As for the rest of the team, junior Andrew Crockett and junior Ryan Robichaud, summer tournaments are just as important to them as the big team tournaments like region and state. It allows them to compete for themselves and not have to worry about the team. Plus, colleges look closer at single tournament scores compared to team tournament scores.
"These school tournaments are important to improve the program at the school," head coach Burt Waller said. "I think both summer and school tournaments do the same as far as being prepared to play in college."
Although the schedule isn't finalized, Coach Waller plans for the team to play in more tournaments this season than ever before, instead of just matches they competed in for the past couple of seasons.
"I think the tournaments will better prepare ourselves for state," Rogers said. "It will definitely give us a good shot at getting to state."
The team won't start competing for another two weeks, but the team is beginning to practice to configure spots for matches and tournaments. This is an important time for the team, as they determine who will be competing in big tournaments.
"We would like to be competing early on, but these two weeks are crucial," Waller said. "Its that point when you have the roster set, but you are trying to figure out who's going to step up in a competitive mind set."