Panthers' defense steps up, Starr's Mill defeats Chapel Hill, 28-27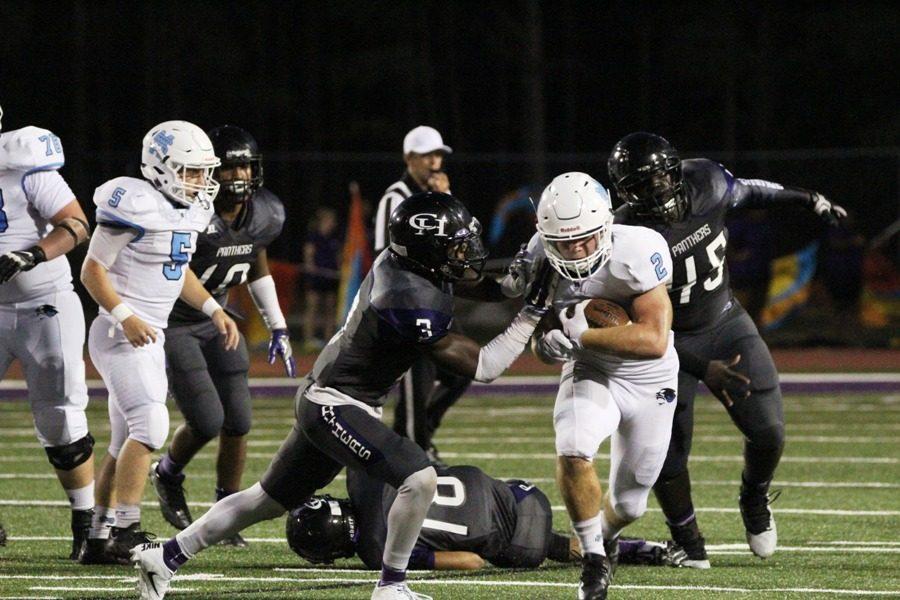 Starr's Mill narrowly avoided an 0-3 start to the season as they traveled to Douglasville on Friday night to play the Panthers of Chapel Hill. In a back and forth match, the Starr's Mill defense stepped up late to hold a 28-27 victory.
"We were just more physical," junior running back Cole Gilley said. "We really worked on it and we were finally more physical than the other team."
The Panthers gained 341 yards on the ground, and Gilley had another impressive game with 21 carries for 160 yards and two scores. Three different Panthers scored on the ground as junior quarterback Joey DeLuca ran for a score and junior running back Mitch Prowant added another touchdown.
"Everyone just blocked their assignments," DeLuca said. "There wasn't that one person messing up and we just played more physical tonight."
The Panthers started with the ball, and went right to work. They pounded the ball continuously on the opening drive, and took 13 plays to find the end zone, as Prowant scored from five yards out.  Starr's Mill forced Chapel Hill to a three-and-out, and quickly moved back down the field.
"
'We [have] to make a play, that was the only thing going through my mind…We have to make a play and win the game'."
— junior running back Cole Gilley
The Panthers had another promising drive, but on the eighth play of the drive Gilley fumbled and Chapel Hill started their drive from their own 36-yard line. Now in the second quarter, Chapel Hill's offense gained momentum and scored on a 20-yard touchdown pass. However, a missed extra point resulted in a 7-6 score, with 10:19 left in the first half.
"When we do our [job] right, we're pretty good," defensive coordinator Jeff Schmidlkofer said. "We're just not consistent."
Starr's Mill had possession again, but after a couple plays they lost another fumble and gave the ball back to Chapel Hill. Now with momentum, Chapel Hill ran 11 plays over a span of five minutes to score once more, gaining the lead over Starr's Mill 13-7.
However, the Panthers offense started rolling with two minutes left in the half as DeLuca completed a 48-yard pass to junior Brandon Rew. A few plays later, the Panthers scored on a 5-yard run from Gilley, and took a 14-13 lead into halftime.
"They executed the gameplan," Schmidlkofer said. "They persevered, and they were in the game. It made a huge difference."
To start the second half, Chapel Hill came out running and after a 32-yard run, they were in good position to score. On the next play, they scored from seven yards out, then converted on a 2-point try, taking the lead 21-14.
On the following drive, Gilley broke off a big run of his own, gaining 43 yards on a second down and nine. Two plays later, DeLuca ran into the end zone, and the Panthers tied the game at 21 with 6:27 left in the third quarter.
"We just had to keep fighting," Gilley said. "Whatever happens, happens. Just keep fighting."
Chapel Hill started their next drive with a 25-yard run, and five plays later they scored again. However, another missed extra point put the score at 27-21, with three minutes remaining in the third quarter. Starr's Mill responded with a long, 15-play drive.
The Panthers pounded the ball down the field and the Chapel Hill didn't have an answer. The Panthers capped off the eight-minute drive with a 1-yard touchdown run from Gilley. With seven minutes left in the game, the Panthers were up 28-27.
"At that moment in the game, they got their intensity up," Schmidlkofer said. "Those last five minutes were crazy."
Chapel Hill started driving down the field, in hopes to take the lead late in the game. A promising drive was cut short when Starr's Mill senior Kennon Golden picked off a pass from Chapel Hill quarterback Jadon Walker. However, on the first play after the interception, freshman Khalen Sims broke off a huge run, but was chased down and lost the ball, giving it back to Chapel Hill.
"We [have] to make a play, that was the only thing going through my mind," Gilley said. "We have to make a play and win the game."
The Panthers defense came up big once again and forced a punt, giving the ball back to the offense with three minutes left. However, the Panther offense couldn't get anything going and punted the ball back to Chapel Hill with 1:06 remaining.
It was Chapel Hill's last chance, and after a 15-yard run they seemed to be gaining momentum, but sophomore Carson Walter intercepted a pass from Walker to seal the game for the Panthers.
"I just hoped we were going to win it," DeLuca said. "I just hoped we were going to pull it off."
Up next for Starr's Mill is perennial powerhouse Sandy Creek. The Patriots defeated last year's AAAAA state champions Allatoona earlier this year and boast a vicious, three-headed monster in their running backs.  The Panthers look to take momentum from their first win into the contest to compete with Sandy Creek and potentially pull off the upset. The Panthers and Patriots will kick off in Panther Stadium this Friday at 7:30 p.m.