Starr's Mill student athletes commit to college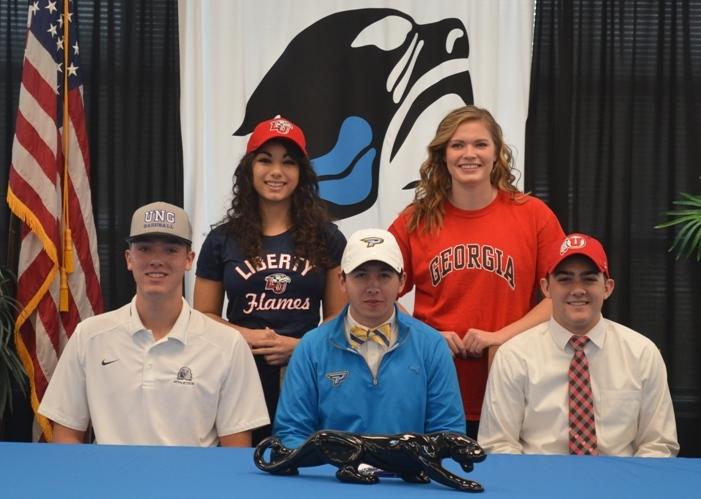 On Nov. 9, five seniors signed commitment letters and decided on the next four years of their lives. With the help of their peers, coaches, and family, these students are ready for the collegiate level of not only academics, but also athletics. The Mill congratulates them and looks forward to seeing everything that they will accomplish as they proceed with their collegiate careers.
Seniors Jake Arnold, Alexis Berrios, Andrew Crockett, Will Tiller, and Donna Blaum all signed to their respective universities.
Jake Arnold – University of North Georgia – Baseball
"I just really meshed with the coaches really well and it's where I could see myself playing for my four years of college," Arnold said.
Jake Arnold, senior at the Mill, has been playing baseball since he was four years old and has played for the school for four years.
"My biggest influence would probably have to be my dad because he's always there by my side and always at my games. He's the one that has pushed me to go to the next level," Arnold said.
Alexis Berrios – Liberty University – Volleyball
"My mom has been my biggest inspiration she has come to all of my tournaments and has just really supported me in all of my decisions," Berrios said.
Berrios started playing volleyball eight years ago. "Playing with the school has really helped me to build relationships and as I became an upper classman I felt what it is like to truly be a team leader," Berrios said.
She chose Liberty University because "It feels not so much like a team but a family and even though it is 8 hours away it really felt like home."
Andrew Crockett – University of Utah – Golf
"It's going home for me and they just got a new coach and I really like him," Crockett said.
Andrew Crockett has played golf since he was two years old and has played golf for the school for four years.
Crockett's biggest influence throughout his playing career has been his dad because "he has always taken [Andrew] to tournaments and he's always just been there for [Andrew]."
Will Tiller – Point University – Golf
"I wanted to minor in Christian studies and it's a Christian school so they have a good theology program and their golf team is actually really good even though it's a small school," Tiller said.
Before Tiller was ready for the college level he played with Starr's Mill for three years. "It has impacted the way that I interact with a team and that is something I will be able to use as I move on into playing in higher level," Tiller said.
When asked who his influences are, Tiller said "My dad and my coach [are my influences]. My dad got me hooked on golf when I was really young and my current coach, Brandon Lovelady, got me into the next level to play college golf."
Donna Blaum – University of Georgia – Swimming
"[UGA] has a great program. They have won NCAA numerous times including last year and more importantly, though, I just loved the coaches and the team," Blaum said.
Blaum has been swimming since the sixth grade and has continued to swim for all four years of her high school career.
"My parents have always encouraged me in whatever I do and to make the choices I want. They never forced me to go to practice so I know to this day that swimming is my choice and I do it because I love it. Coach Stu Wilson has really pushed me hard these last couple of months and helped me with my college decision."