Lady Panther volleyball splits region matches
On Sept. 20, Starr's Mill took on two region teams losing the first match 2-1 to Whitewater and winning the second match 2-0 against Riverdale. The Lady Panthers showed the same level of competitiveness against a talented Lady Wildcats team as they did earlier this season when they played a challenging opponent in the Columbus Blue Devils.
"This point in the season we just need to seek out improvement," varsity volleyball coach Walt Ellison said. "Whitewater is one of the best in the state, so just being able to compete with them is impressive, but we just need to keep improving."
In the first game the Wildcats took an early lead over the Lady Panthers, and the Mill could not manage a comeback. Senior Alexis Berrios made multiple attempts diving to save the ball, but she could not manage to get the ball twice, letting Whitewater score.  The Lady Panthers lost 25-15.
Starr's Mill took the lead early in game two and ended up winning within a small margin of five points. The majority of the Mill's points came from outs on Whitewater, but the Wildcats noticed the aggression and played even harder in game three.
Many of the points for Whitewater were scored off of outs on Starr's Mill, but the majority of the Lady Panther's points came from Whitewater not being able to get serves over the net, or hitting the ground off of a touch on their side. Game three against Whitewater ended the match with a 25-12 loss for Starr's Mill.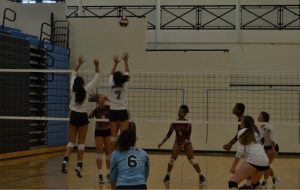 "In volleyball the team work is so important," senior Emily Schafhauser said. "You need to be able to rely on each other."
In the first game against Riverdale, Starr's Mill showed impressive teamwork. The Lady Panthers started with an immediate lead that never seemed to waiver. The game ended in a quick loss for Riverdale, Starr's Mill winning 25-7. The second game ended the match with a 25-10 win for Starr's Mill. In this game, Berrios led the team and the game by showing her aggressive side while diving for multiple balls, but only letting one hit the ground.
"For the next game, we need to show more energy and get less stressed," Berrios said. "When you get stressed, you tense up and lose focus and don't play to your full potential."
The Lady Panthers played Northgate on Sept. 22 in a junior varsity, varsity doubleheader with both teams winning their respective matches 2-0.  The varsity squad defeated the visiting Vikings 25-21 and 25-20.  Starr's Mill travels to Griffin Sept. 27 to play two more region opponents, Griffin and Fayette.  The matches begin at 5:30 and 6:30 p.m.