Track and field kicks off as Starr's Mill hosts Panther Relays
After finishing fourth overall last season in AAAAA, Starr's Mill track and field began the 2017 season by hosting the Nike Panther Relay with 27 competing teams. The girls team impressed with a second place finish, while the boys team ended the meet in 11th place.
"We have both the younger and older athletes who are producing immediately," head coach Chad Walker said. "I feel like we are capable of pushing to make a run at the region championship."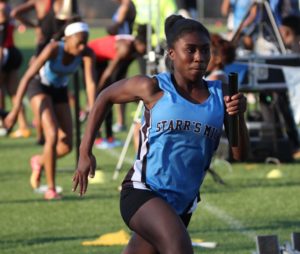 The top five performances in the 800-, 1600-, 3200-meter relays and the 800-meter medley relays as well as the individual events of the 300-, 800-, 1600-, and 3200-meter sprints, and vault and discus propelled the Lady Panthers into an impressive second place finish.
Inspired performances in the long distance competitions by junior Mary Valli and sophomore Zemmie Steger, as well as a second place finish in pole vault by freshmen Julia Colson, helped catapult Starr's Mill into the second position on the podium at the end of the two day meet.
"We are pretty complete on the girls' side," Walker said. "Our sophomore girls' class is very solid and when they become seniors we could potentially compete for a state championship."
Although the boys team did not finish in the top 10, promising performances in the 800-meter race, pole vault, triple jump, and discus helped place the Panthers in the top half of the boys' competition.
"I think we will improve steadily throughout the year," Walker said. With sophomore runners like [Nick] Nyman, [Harrison] Fultz, and [Mitchell] Harris, our boys' side is young and improving."
The boys team also has promising junior Benjamin Runyan, who finished second in the state pole vault behind his older brother, Michael, in 2016, and junior Josh Dotson, a threat to make the podium at any meet for the triple jump.
For full results go to http://ga.milesplit.com/articles/204126-.
Twenty-one girls and 23 boys travel to Orlando this weekend to compete in the Kowboy Invitational at Osceola High School.