Starr's Mill track and field finishes top 10 in state meet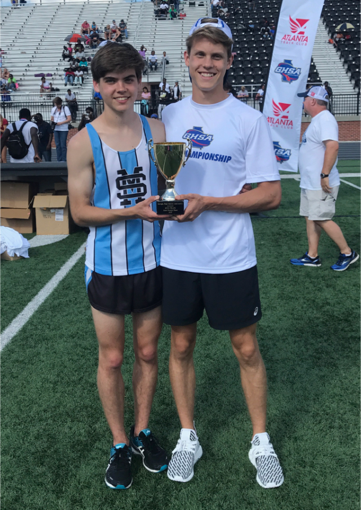 This past weekend the Starr's Mill track and field teams competed for a state championship. After both boys and girls finished fourth last year, the boys repeated their success with another fourth place finish, while the girls placed seventh.
"Our goal at the beginning of the year was to finish in the top 10 for boys and girls," head coach Chad Walker said. "We had some outstanding performances [at state]."
In the girls 400-meter race, sophomore Tenae Grigsby finished third with a time of 56.83 seconds. Junior Mary Valli finished 11th in the 1600-meter run, and freshman Megan Dobso came in 13th place. In the 3200-meter race, Valli took fifth while Dobso took eighth.
For the boys, sophomore Nick Nyman, school record holder in the 1600-meter and 3200-meter races, finished second and first in those events. Sophomore Harrison Fultz was third in the 3200, and also came in fourth in the 800-meter dash. Junior Eric Donevant finished fourth in shot put and seventh in the discus throw.
"We achieved our goal and some great performances especially on the boys side," Walker said. "We had a great showing on the girls side as well, and a lot of those girls will be back next year."