Junior varsity Panthers maul Tigers in season opener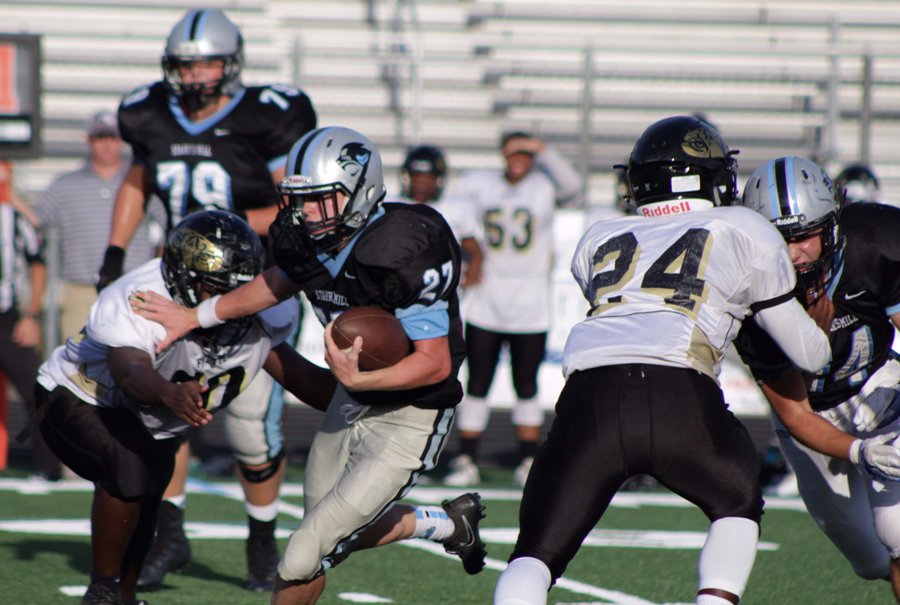 The Starr's Mill junior varsity football team opened up their season against the Fayette County Tigers with a 35-12 victory. The game was very action packed until the final second.
"It's great to come out and win the first home game of the season," head coach Chad Walker said.
The Panther offense started the game off in a big way, running right through the heart of the Tiger defense. The drive was capped off with a touchdown from freshman running back Nate Kearns to make the score 7-0. The Tigers would not stay down as sophomore running back David Robinson found the end zone, but they would miss on a two point conversion.
As the second quarter got underway, running the ball continued to be a priority for the Panthers as freshman quarterback Austen Millians and sophomore running back Ben Bodne both got into the end zone for the Panthers, while the Tigers couldn't muster any offense. The teams went into halftime with the score 21-6 in favor of the Panthers.
"We tend to be pretty successful on our JV level because of the practice we put in," Walker said.
In the third quarter, both teams continued to be energetic. However, neither team could make it into the end zone, keeping the score at 21-6.
The fourth quarter started off with a bang, as sophomore running back Ardit Hoti found the end zone to increase the Panther lead to 28-6.
After that, the Tigers would only get on the scoreboard one more time as freshman running back Jayden Fultz ran in with four and a half minutes remaining in the game. Freshman defensive back Derick Walker would bat down a critical pass attempt late in the fourth quarter to prevent a possible Tiger touchdown from the air.
To end the game, freshman running back Peter Whiteman punched it into the end zone from the three yard line as time expired to help the Panthers win 35-12.

"We showed a lot of good things in this game and we still have a lot to improve on, but it's a very good sign for the start of the season," sophomore wide receiver Jake Brackett said.
The JV Panthers will play next against the Northgate Vikings at 5:30 p.m. on Sept. 7 in Panther Stadium.