Cross country starts season with success
Picking up from a successful 2016 season where both boys and girls ran in the state meet, the Panthers finished the first meet of the 2017 season with the boys placing 1st and the girls placing 3rd overall. The cross country team raced on Sept. 2 at Heritage Church for their first home meet.
"I know our goals are to win state boys and girls, but we'll see how that goes," head coach Austin Enriquez said.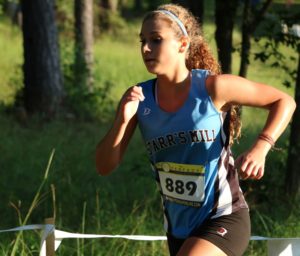 Girls' results
At the meet, the runners tested their abilities at home and attempted to reach the success of last year. No Lady Panther runner managed to finish in the top ten. However, top runner sophomore Megan Dobso improved her personal record by 10 seconds and finished 11th overall.
Sophomore Megan Dobso – 19:22, 11th place overall
Freshman Darby Olive – 20:24, 19th place overall
Junior Zemmie Steger – 20:43, 22nd place overall
For the rest of the times, click here.
"We went out really fast, and then we settled in, and then everyone just spread out," Dobso said.
Boys' results
The Panthers concluded the Sept. 2 race with two runners at the top. This provides a huge jumpstart to the season and a strong start toward besting last year's success.
Junior Nick Nyman- 15:57, 1st place overall
Junior Harrison Fultz- 16:07, 2nd place overall
Junior Ty Duben- 17:20, 15th place overall
For the rest of the times, click here.
"It was a little bit harder leading the whole race instead of chasing somebody so that is different than how I usually run," Nyman said.
The Panthers run next on Sept. 9 in Carrollton. For the times of the races, click here.