Panthers crush Morrow to remain undefeated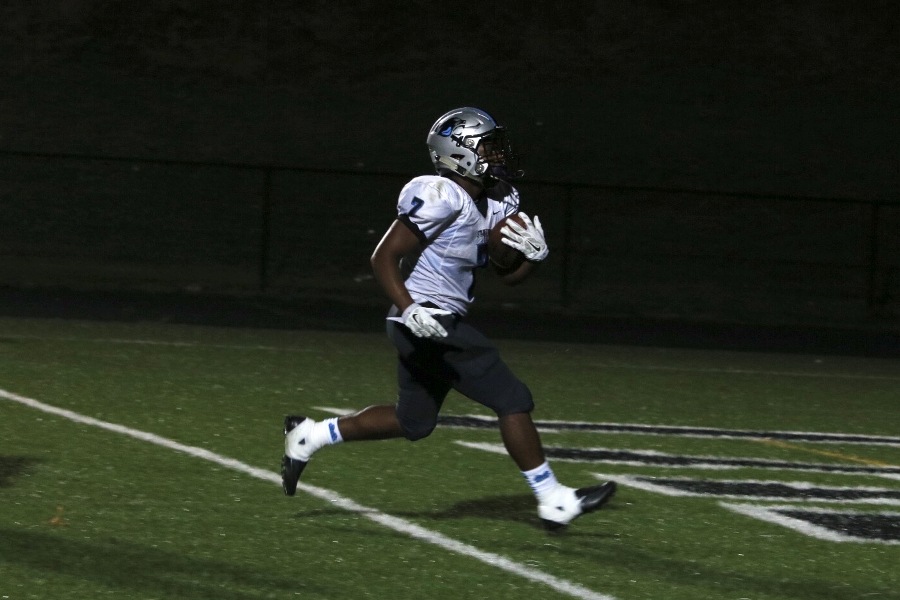 Morrow's 3-1 start this season was much improved from years past, but they hosted a 4-0 Panthers team that was not ready to lose their unblemished record. Almost the entire Starr's Mill roster earned some playing time on Friday, as the Panthers cruised to a 49-24 victory.
"I like the way that we continue to compete," head coach Chad Phillips said. "We jumped on them early and got off to a great start."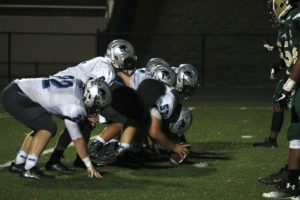 The Panthers distributed the ball between nine different running backs, with sophomore Kalen Sims and senior Nick Brown leading the pack. Sims picked up 114 yards on seven carries, scoring once, while Brown rushed for 103 yards and two touchdowns on just six attempts.
For the Mustangs, freshman Kenneth Robinson torched the Panther defense for 243 yards and three touchdowns on 21 rushes. Junior quarterback Kristopher Clark dropped back to pass 15 times, but only completed four passes for 44 yards.
"We got to play a lot of players," Phillips said. "It's good for those young guys. It's good that they got out under the lights and got a little exposure to varsity football."
Morrow kicked off to start the game and Brown returned the ball 42 yards to the Mustang 46-yard line. It only took 15 seconds for the Panthers to put points on the board as Brown broke off a 40-yard run and senior running back Cole Gilley punched the ball into the endzone on the next play.
Morrow's offense could not respond, as they lost five yards after three plays, and punted the ball back to the Mill. A bad punt set the Panthers up at Morrow's 18-yard line, and once again, the Panthers struck quickly. This time, Gilley rushed for eight yards, and Brown followed it up with a 10-yard touchdown run. Within the first three minutes of the game, the Panthers had already built a 14-0 lead.
"Our first four games we were used to blocking bigger, stronger opponents," senior quarterback Joey DeLuca said. "The line really hit their assignments well and opened up holes for our running backs."
Morrow started their next drive with a 7-yard burst from Robinson, but followed up the run with an incomplete pass and a failed third down conversion. For the second time on two drives, the Mustangs were forced to punt. The Panthers received a taste of their own medicine on the following drive, as they only gained six yards on three plays and punted the ball right back to Morrow.
A 42-yard punt return finally gave the Mustangs a chance to score. Lined up at the Starr's Mill 7-yard line, Robinson took the handoff and exploded through a hole in the defense to put Morrow on the scoreboard. After they missed the extra point attempt, the Mustangs still trailed 14-6.
"We jumped on them really early," Phillips said. "After we got off to a great start we almost started to relax, but then we came back and started beating them again."
"
It's a great feeling, that we can rely on our defense making stops and getting the ball back to our offense so we can put points on the board."
— Senior quarterback Joey DeLuca
After the lapse on defense, the Panthers certainly bounced back. On the second play of their drive, Gilley accelerated past the entire Mustang defense for a 33-yard score. Similar to their first two scoring drives, this series did not even run a minute off the clock before Starr's Mill found the endzone. Gilley's score increased the Panther lead to 21-6.
Morrow's next drive changed the pace of the game, as they put together a 13-play, 53-yard drive over the course of four minutes. Even though Morrow began to pick apart the Panther defense, they were unable to finish off the drive. Clark rolled out of the pocket and scrambled down the field, but fumbled the ball when he was tackled. Starr's Mill hopped on the ball and ended a promising Mustang drive.
"It's a great feeling, that we can rely on our defense making stops and getting the ball back to our offense so we can put points on the board," DeLuca said.
Gilley picked up right where he left off on the previous drive, rushing for a 34-yard gain to start the new Panther series. DeLuca dropped back to pass on the next play, finding senior wide receiver Brandon Rew for a 15-yard completion. Sims kept the momentum going with a 22-yard run down to Morrow's 2-yard line. DeLuca then snapped the ball and sneaked into the endzone. After the PAT, Starr's Mill led 28-6.
Morrow responded with another lengthy drive. This time around, they used an 11-play, 65-yard drive to cut into their deficit. Robinson finished off the series with a three yard touchdown run, but once again Morrow only added six points to their total. With seven minutes until halftime, Starr's Mill led 28-12.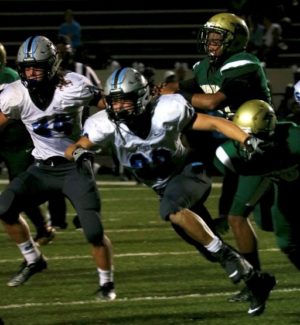 Morrow then punted in between two scoring drives by the Mill. First, Brown scored on a 19-yard touchdown run to extend the lead to 35-12. Following the punt, Sims scored on an 11-yard run and pushed the score to 42-12, which held until halftime.
"We had a 30-point lead at halftime and still had that lead after the third quarter," Phillips said. "That was our challenge to the players, to keep that lead."
Starr's Mill did hold their lead, as both teams scored once in the third quarter. Sophomore Ben Bodne found the endzone to put the Panthers up 49-12, but Robinson answered with an 80-yard touchdown run to bring the score to 49-18.
Robinson scored once more on the night, but it had little effect on the outcome of the game. Starr's Mill chewed clock and eventually walked off the field with a 49-24 victory in hand.
"[Games like these] really help us because it keeps the ball rolling," DeLuca said. "During practice is better knowing you're 5-0 than 4-1 and coming off of a loss."
The Panthers improved to 5-0 while Morrow lost their second straight game, dropping their record to 3-2. Robinson continued his great season, but it wasn't enough to lead the Mustangs to a win. Next up for Morrow is a region matchup with Whitewater. The Wildcats are also 3-2 and coming off of an upset win over Griffin.
As for Starr's Mill, they face Griffin next. The Bears are seeking revenge from last year's action-packed shootout, while the Panthers look to remain undefeated and jump to an early advantage in region standings. This Friday's key region matchup begins at 7:30 p.m. in Panther Stadium.