Lady Panthers finish region play as No. 3 seed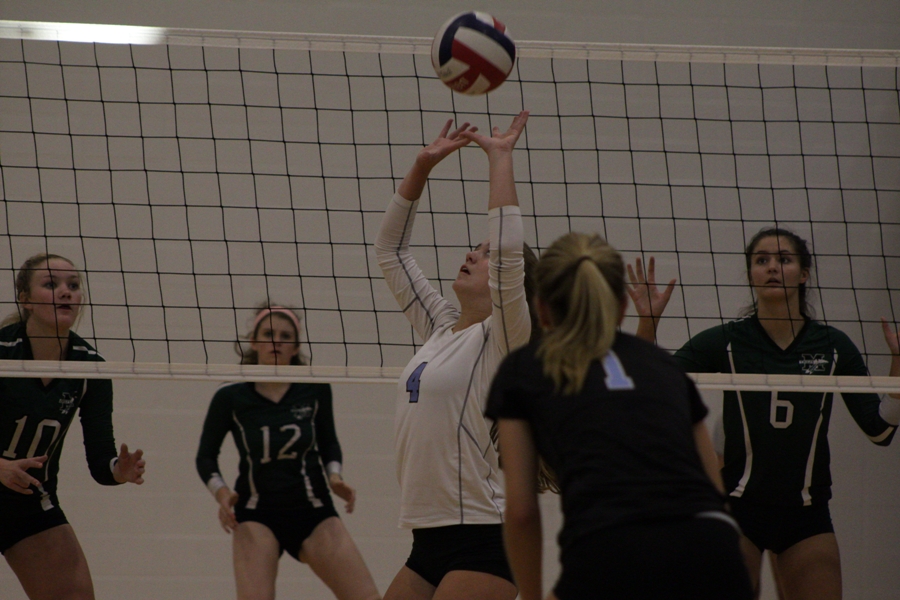 The Starr's Mill Lady Panthers split their final evening of region play, defeating Griffin but losing to McIntosh.
In the first game versus McIntosh, the Panthers fought hard against the Chiefs, making it an energetic game with long runs. The final score was 26-24 McIntosh, even though most of the game was either played with a Panther lead or in a tie.
"
It takes consistency [to win]."
— head coach Walt Ellison
"I think we did pretty well because McIntosh was the number one team in our region and we stayed pretty close against them," senior Jessie Echols said.
McIntosh pulled away at the end while the Panthers fell behind because they couldn't keep up with the pace of the Chiefs. McIntosh continued this streak into the second game.
"We played well at times, but then we let down and played poorly at times. It takes consistency [to win]," head coach Walt Ellison said. "McIntosh played consistently and that helped them beat us."
Playing against the Chiefs for the second time of the night, the Panthers lacked the push that they had in the first game. McIntosh stayed in the lead from the beginning and stayed ahead until the end, with the final score 25-14 in favor of the Chiefs.
"In the first game, we fought hard and kept fighting and kept the score close, but in the second game, we let up and struggled to get points," sophomore Tessa Laney said.
While playing against Griffin, the Mill took over from the beginning, leaving the Bears struggling for points. Griffin first scored when the Panthers had four points already, but Starr's Mill stayed ahead with much ease. The Panthers easily took the first game 25-8.
When the Mill faced the Bears for the second time, the energy remained, and the game consisted of short runs. The Lady Panthers dominated once again winning 25-6.
The big game of the night was McIntosh versus Whitewater where McIntosh ended victorious. The match went into three games, with the first game ending in a 25-12 Chief victory. The second game ended in a 25-22 victory for the Wildcats, but McIntosh ended up winning the last game 25-18.
"This is what we have been working for, trying to get to the area tournament seeded number one and that just clinched that for us, so we're all very excited," McIntosh head coach Wendy Mabon said.
Going into the area tournament, the No. 1 seed is McIntosh, Whitewater is the No. 2 seed, followed by the Panthers as the No. 3 seed. Whitewater will play host to the Panthers on Oct. 4.  The match begins at 5:30 p.m.