Cheering on a new head coach
As the Mill's cheerleaders take the floor this season, a new mentor will lead them. Previous junior varsity coach, Heather McNally now transitions into the new leadership position.
"Tradition will remain the same. Excellence is what they strive for. They work very hard at being excellent at what they do and they will continue to work hard to make the program strong and successful," cheer mom Yvonne Decos said.
"
I want to show people how difficult and challenging cheer is and how these girls are true athletes."
— head coach Heather McNally
McNally's lifelong dream was to teach high school and coach cheerleading. Both of which she has accomplished here at Starr's Mill. She formerly coached at Alpharetta High School and Roswell High School.
The passion McNally has for cheer springs much from the misinterpretation of the sport. "When I cheered in high school our athletic director told us it wasn't a sport," McNally said. This is a phrase too often heard in the world of sports and McNally wants to change that perception of her cheerleaders. "I want to show people how difficult and challenging cheer is and how these girls are true athletes."
Unlike what the majority of the cheerleaders expected, most agreed McNally's shift to head coach was seamless. "It feels like she just slid right in and she knew exactly how to handle it," junior Kristen Decos said.
Many cheerleaders were relieved when they received the news that McNally was going to take over. They are more than confident in her experience and ability to guide them. "We were lucky enough to get Coach McNally who goes above and beyond to take care of us and prepare us for the season," sophomore Doni Davis said.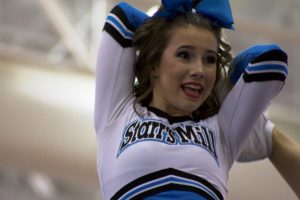 Though some aspects have changed with the arrival of McNally, the expectations of the team's performance remain the same. The Starr's Mill cheer program is notorious for its great past success and McNally hopes to build off the legacy that's been established at the program. "Our previous coach built a program that is irreplaceable and will always be shown through tradition no matter what. Coach McNally has continued to carry on the positivity and hard working atmosphere that is Starr's Mill cheer," Davis said.
"Starr's Mill's cheer program has always had a very high level of success and it's tradition for them to have excellence in everything they do. Outside and inside of cheer, they are very good at being leaders," Yvonne said. "They pride themselves on their ethics, character, morals, values, and integrity. McNally brings the same level of integrity to the team."
Coming in as the coach, McNally did not want to switch up a lot on the cheerleaders. For the most part, McNally has kept changes to a minimum to continue what has worked in the past and help the cheerleaders acclimate to the transition. "McNally hasn't really changed practices. She wants us to still feel the same way we did with Coach Ratliff which is great," sophomore Avery Blair said.
Loving each other and working together as a true team is a vital component to success and one that McNally emphasizes preaching to the cheerleaders. She focuses on unifying the team through practicing excellent communication skills. The team often has open discussions. "She makes us feel like we are one whole team and not just little parts of the team and definitely makes us feel like we all have equal say," Kristen said. McNally wants the cheerleaders to love one another and solve dilemmas with each other rather than against each other.
"I coach similarly to how I teach. I push them to do their very best. I want them to have fun and love what they are doing and remind them that that's why they should be doing this. I want to initiate them to be better than they were before and achieve more," McNally said.
"
[Coach McNally's] like a cheerleader for the cheerleaders."
— cheer mom Yvonne Decos
McNally has shown full obligation to the cheer program including staying extra hours, reworking her daily schedule, and even losing time with her family. McNally's family is also very invested in the sport and will often attend practices and competitions which makes the cheerleaders, "feel like they are apart of her family," Yvonne said.
With McNally comes her energy and positivity, which has spread throughout the program. Her upbeat vibes have made a mark on the cheerleaders. "She's like a cheerleader for the cheerleaders," Yvonne said. McNally will go up to the cheerleaders and "believe in you when you don't even believe in yourself," Kristen said. McNally additionally tells the cheerleaders not only when she's disappointed in them to aid in the execution of their performance, but will also make a point to tell them that's she's proud of them.
Making state is always the ultimate goal, but what McNally really wants is for her cheerleaders, "to love what they do, have fun every day, and go home happy," McNally said. Multiple cheerleaders disclosed the main goal reiterated throughout the course of the season is, "to be the best Starr's Mill we can be." This adheres to one of the building blocks of McNally's coaching: pushing to always do your personal best.   
Last Saturday, the cheer team underwent their first test since McNally has taken over the program. In the premier regional competition of the season, the Mill finished second overall with McIntosh taking first place.
"Coach McNally is an extremely strong woman and she has had many challenges thrown at her this season and she does it all while remaining positive and smiling," Davis said. McNally's commitment to not only cheer, but also positivity sets an incredible example for the cheerleaders to look up to.