JV Panthers cruise past Wildcats en route to perfect season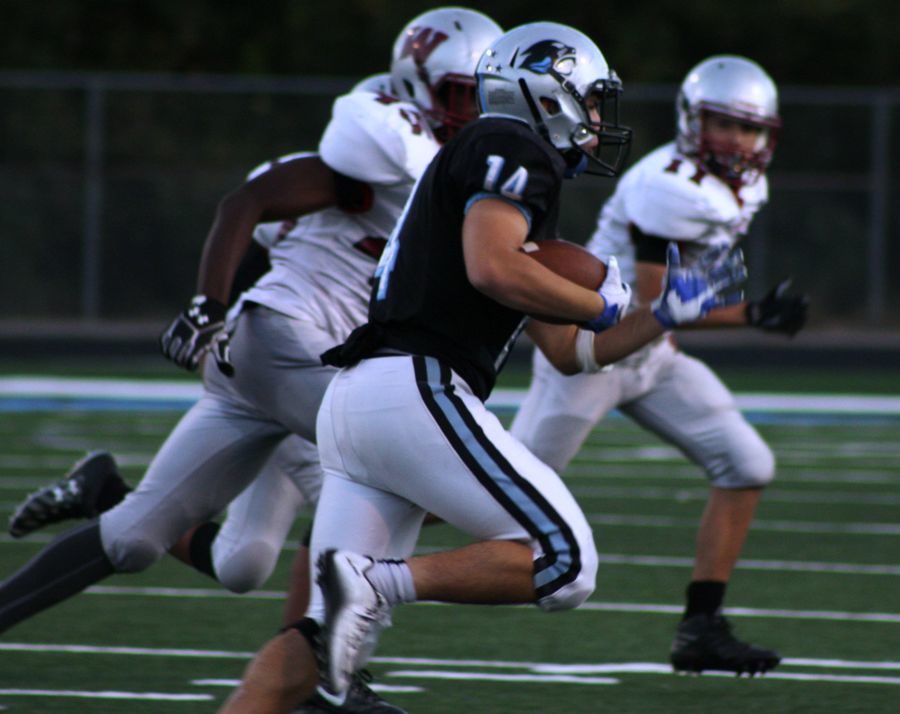 After beating McIntosh in the Battle of the Bubble, the Starr's Mill junior varsity football team came into their final game against Whitewater with the goal of achieving a perfect season.
"It doesn't matter who we play, and that was obvious this year," head coach Chad Walker said.
As the game commenced, the energy was there for both teams, but the scoring was non-existent. The first quarter ended with the two rivals knotted at zero.  
The scoring picked up in the second quarter as sophomore running back Ben Bodne ran the first touchdown of the night into the end zone from the eight-yard line with four minutes left in the half. Whitewater could not find any way to respond, struggling on both the offensive and defensive side of the ball. Starr's Mill's offensive success continued when sophomore quarterback Hunter Lawson threw a pass to freshman wide receiver Rhett Jones for another Panther touchdown.
The Whitewater offensive woes continued as the Wildcat quarterback was picked off by freshman defensive back Nate Kearns with 39 seconds left in the half. Starr's Mill ran down the clock after that, leaving the score 14-0 in favor of the Panthers at halftime.
"There was no ego on the team," Walker said. 'Everyone was playing for each other, and that's what made us so successful this season."
As the second half got underway, the Mill continued to outplay Whitewater as Jones reeled in another touchdown, increasing the Panther lead to 21. After that score, energy and effort remained high with no scoring until freshman quarterback Austen Millians threw a pass to Jones for yet another touchdown with one minute left in the quarter. The third quarter ended with the Panthers leading 28-0.
The fourth quarter saw mainly the Panthers trying to run down the clock with easy, five- to six-yard runs, until freshman running back Mello Jones put the icing on the cake for the Panther offense. Just when it could not get any worse for Whitewater, the next kickoff, an onside kick, was recovered by the Panthers, sealing the undefeated season. The clock was run down after that, and with that, the Panthers won 35-0 and achieved perfection.
"It feels good knowing that we haven't gone undefeated in ten years, and being the first group in ten years to accomplish that goal is pretty special," sophomore wide receiver Jake Brackett said.
JV football may be over, but varsity is still playing with their eyes set on its second straight region 3-AAAAA title. The varsity Panthers play their last game before the AAAAA state playoffs tomorrow at 7:30 p.m. against the Fayette County Tigers.  As part of the Senior Night festivities, Starr's Mill will honor its senior football players and cheerleaders prior to the game.