Bears blow out JV Lady Panthers in season opener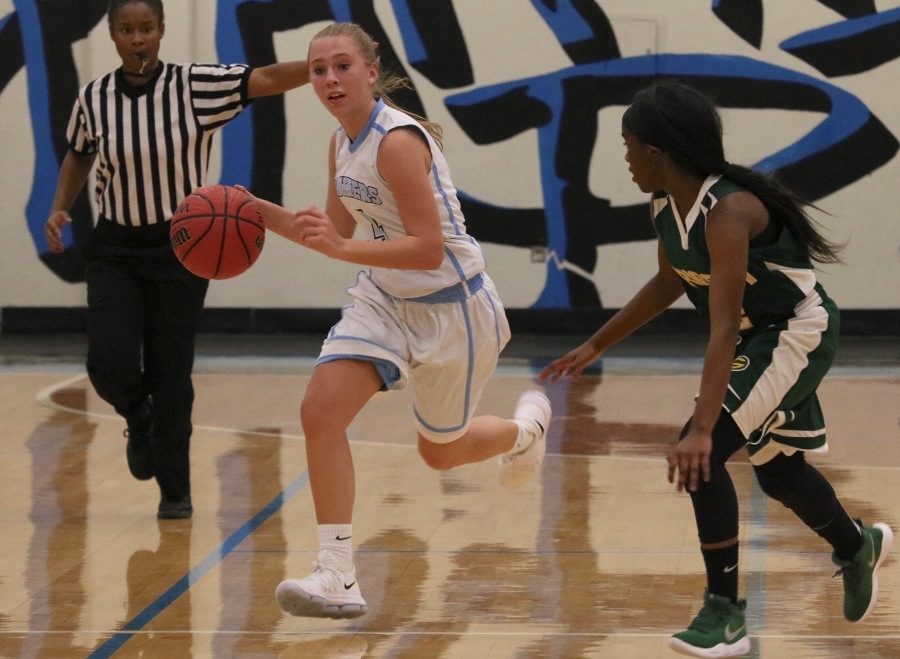 The junior varsity Lady Panthers opened up their season with a 39-25 loss to the visiting Griffin Bears. The game saw the Lady Panthers commit too many turnovers against the Bears' full court defense.
"We've got a lot we need to work on, but there were some positives [from the game]," head coach Mark Williamson said.
Sophomore power forward Miyah Hunter led the way for the Lady Panthers with seven points, two rebounds, and five blocks. However, Griffin played well on both ends of the court, giving the Lady Panthers a disadvantage.
The game opened up with Griffin taking an early 8-0 lead, and the Lady Panthers committing five turnovers out of their total of twelve for the game. The Lady Panthers would answer back, however, as sophomore guard Jordyn Richards scored three points and Hunter scored four to make the game 12-7 in favor of the Bears.
As the second quarter got underway, the Lady Panthers picked up the pace, only allowing three points to be scored by the Griffin offense. Leading the way was Hunter yet again, who scored another two points and had two blocks. Griffin took a  15-13 lead into halftime.
"[Griffin] is one of the more aggressive teams we'll face as far as full court pressure, which we didn't handle well," Williamson said.  
The third quarter saw the Lady Panther momentum completely vanish, as they would only score one point courtesy of a free throw from Hunter. The Bears, however, had a fire in them that the Lady Panthers could not contain. They scored 16 unanswered points, bringing the total to 31-14 Bears at the end of the quarter.
The fourth quarter saw both teams play hard, but not much scoring. Hunter continued to play strong, scoring one point off a free throw, and producing three more blocks, bringing her total up to five. Still, the Bear offense was going strong, as they sealed the deal when they went up by eleven with less than four minutes to go. Freshman guard Addison McDaniel scored the last four points for the Lady Panthers in the final minute. McDaniel almost hit a final shot at the buzzer, but it would have done little to soften the 39-25 defeat.
"The first game is usually pretty rough, but we have a pretty young team, and I think we did really well," Hunter said.
The JV Lady Panthers play their next game against the Heard County Braves at 4:30 p.m. on Nov. 28 in the Panther Pit.