JV Panthers tame Bears in season opener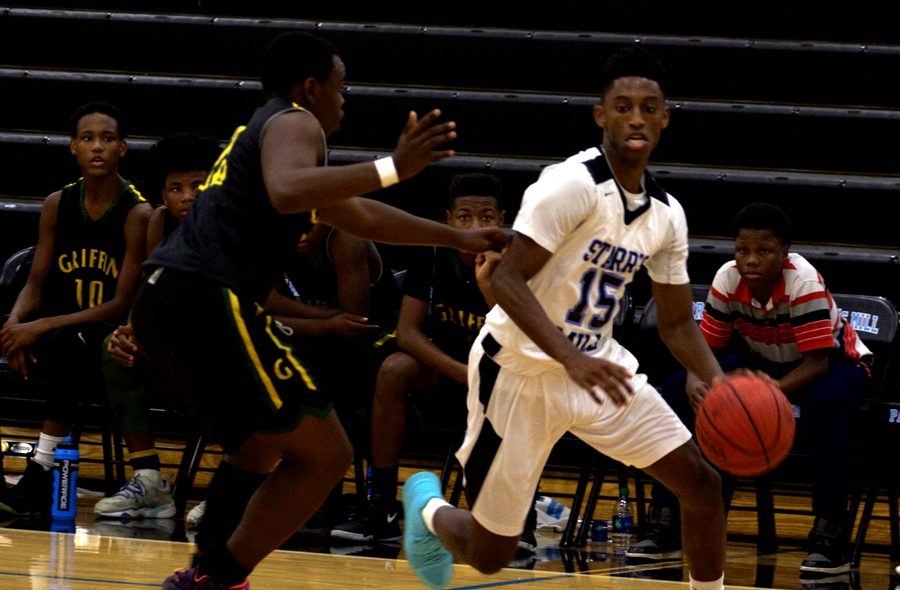 Ty Odom, Staff Writer
November 27, 2017
The JV Panther basketball team began the season by defeating the Griffin Bears 60-56. Despite the small margin of victory, the team was able to control the pace for most of the game.
During the first quarter, Starr's Mill got to the free throw line early and often, shooting eight free throws and converting on six of them. In addition to the easy points on offense, the Panthers played stellar defense, only allowing Griffin to score eight points to the Mill's fourteen points.
"They were aggressive," head coach Kerry Evert said. "We had them take it to the hole and got a lot of foul calls."
In the second quarter, Starr's Mill continued to draw fouls and get easy points at the foul line. In addition to making free throws, the Panthers were able to score from various spots on the court while keeping up the spectacular defensive effort, once again holding Griffin to only eight points. At the end of the half, Starr's Mill led the Bears 32-16.
The third quarter did not go as smoothly for the Panthers. The team turned the ball over on numerous occasions, allowing Griffin to score off of easy fast breaks. The Panthers also failed to capitalize on several opportunities, missing a number of open layups. Although Starr's Mill still held a 40-25 lead, the Bears outscored the Panthers in the third quarter.
"We definitely could have passed more," sophomore Trevor Phalen said. "It would have helped us run the offense better."
During the fourth quarter, the Panthers continued their sloppy play. The Bears were able to put pressure on Starr's Mill and force turnovers. As a result, Griffin was able to go on a run which saw the Panther lead diminish to single digits with time running out. However, sophomores Phalen and Jabian Lynch scored the vital last-minute points to put the game away.
"Under pressure, we just keep talking to each other," Lynch said. "It helps lift our spirits."
With the win over Griffin, Starr's Mill begins their season with a record of 1-0. The team's next game is on Nov. 28 at Newnan.
The ninth grade team also opened the season with a 58-49 victory over the Bears.