Nieuwstraten's late-game heroics sink McIntosh
Submitted by Kathy Nieuwstraten
Ty Odom, Staff Writer
January 21, 2018
After easily defeating the Lady Chiefs 46-35 in their first matchup this season, the Lady Panthers faced a tough challenge in their second game against their cross-town rival. The game went down to the wire, with Starr's Mill coming out as the victors with a final score of 52-49.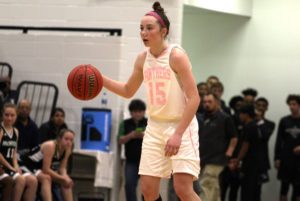 The Panthers got off to a quick start, scoring 18 points while only allowing McIntosh to score 10 in the first quarter. Sophomore Alice Anne Hudson scored 11 points in a row in the quarter, making three three-point jump shots and a layup. Fellow sophomore Ashtyn Lally also added six points off of two three-pointers.
The second quarter was significantly slower than the first. The Lady Panthers had a tough time trying to find and make open shots, only scoring nine points in the quarter. The Chiefs were able to take advantage of the Starr's Mill slump, scoring 12 points to cut the lead to five points at the end of the half.
"[McIntosh] changed their defense," head coach Emily Sweeney said. "We had to change our offense."
The game began to intensify in the third quarter. The Panthers played physically on both offense and defense, drawing fouls and preventing the Lady Chiefs from taking the lead. Hudson added another six points despite a bloody nose to help Starr's Mill maintain a 38-34 lead going into the fourth quarter.
"I was always in the right position for rebounds," Hudson said. "I also drove to the basket when I was open."
In the fourth quarter, the Lady Panthers struggled to close out the Chiefs. The two teams traded the lead throughout the final stretch. With less than 20 seconds left on the clock, McIntosh had tied the game at 49-49. Starr's Mill ran one last play, which left senior Emily Nieuwstraten with enough space to drain a three-point jump shot for the win.
When asked how to keep calm in the clutch, Nieuwstraten said, "You just have to zone everything out and do what you know how to do."
With this win, Starr's Mill increased their winning streak to three games, improving to 14-5 overall, and 6-1 in the region.